I was recently discussing a website project with a client who wanted to save some money and some time by having us design the website first, with a possibility of creating a real logo for her as a future project. I thought I'd share the reasons why you need to start with the logo before you can get started on a website project.
The logo design is the base your brand is built on
Your logo and branding are the most important part of your project – the keystone that holds everything together. In the normal course of a logo and website project, we would first create a brand identity for your company: nailing down the logo, color scheme, typography, graphics, patterns and other details. Then the site design (as well as your business cards, social media graphics, and the other marketing materials you need) would be informed by the design we had created as your identity.
Branding choices will strongly influence the website design
When a web designer starts a project with a strong logo in hand, she'll echo the colors, fonts, and feeling in the logo throughout the site. Without that important piece, it would be hard to design a site that captured your business' style. If the website was designed before the logo, you would be stuck either redesigning the site to work with the "real" logo when it comes, or compromising on the logo to make it work with the site design that's already in place.
It's hard to take a mediocre logo and make a stunning website with it.
I see clients tempted sometimes by a logo that's "good enough," but they aren't really happy with it. Maybe they've had it for a while and are used to it, maybe a friend made it for them and they don't want to hurt anyone's feelings, or perhaps the amount of collateral (business cards, packaging, etc.) to replace is daunting. I've noticed over the years that when a client comes to us feeling doubtful about her logo, but decides to live with it, that we all struggle with the design process – the website of course ends up looking like the logo and the client can't bring herself to feel excited about what we're doing.
But can't I just choose a font for my business name and start there?
We used to try to put sites together with the business name in a nice font, rather than creating a real logo, but were rarely able to build something that worked well for our clients. Now we insist on a logo before we can begin any work. This is to save your time and money, and be sure we're producing the best work we can for you. We've found that rushing usually has no place in creative projects, if you're invested in the end result.
See some examples of cohesive site designs from our portfolio: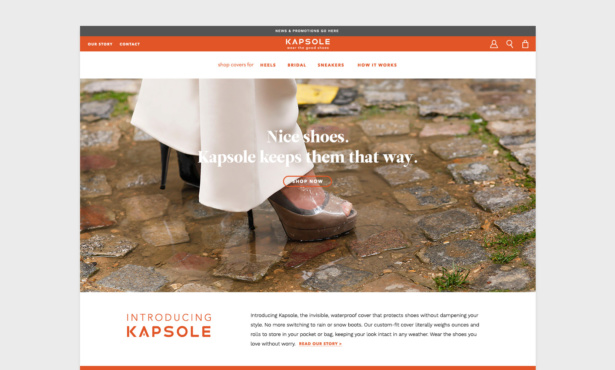 What experience have you had trying to pull together a full identity for your business? How do you feel about your own logo? Have you stuck with the same one, or have you redesigned since starting your business?
Please get in touch if we can help you with your brand identity.
Savvy creative businesses say they always learn something helpful and interesting when they read our newsletter! You can join them here.
Newsletter Sign Up
We write a new email each week to help you grow your business.
Related Posts
Let's take your online shop to the next level
The Shopify websites we design have a reputation for substantial improvements to ecommerce conversion rates and online sales. Let's talk!