We Grow Creative Shops Online Using Strategic Design
You design unique products that brighten the lives of your ideal customers. We get it, love it, and will help you level up by building an on-brand website centered around what differentiates your business from others.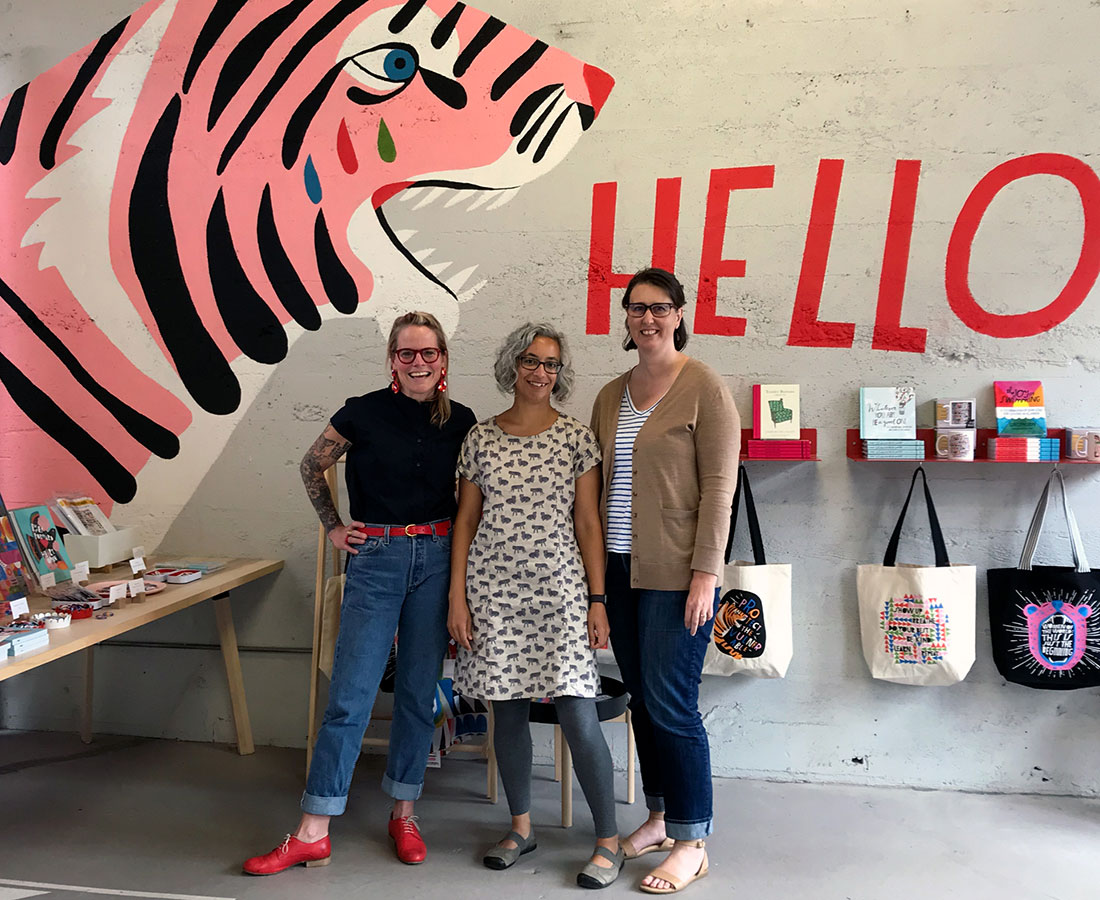 Visiting artist Lisa Congdon's Portland shop. See Lisa's site in our portfolio.
L-R: Lisa, Arianne, Sam
Why Are We a Good Fit for Your Creative Business?
Because we truly care. We believe that shopping small, from independent brands, strengthens communities and encourages originality, diversity, and connection. We feel good making purchases that support artists and independent business owners (and their families) with empowering, self-directed work. There's a different way to shop, and it encourages humanity!
What Makes Aeolidia Special?
---
No one has the track record we do with the types of brands we work with. We're the agency that gets big results for small businesses. We understand what works for independent designers (it's not always what you'd think).
We create community and learning opportunities, and help forge one-on-one and group connections that grow businesses through our Facebook and mastermind groups. We have provided free consultations, training, and services throughout our career.
We're your people. Our team of ecommerce experts are also soapmakers, block printers, toy designers, and knitters who have run shops ourselves and shopped from yours. We're big fans of your business, and will cheer you on as you grow it.
Our core values make us a delight to work with. We are diligent achievers, curious learners, humble experts, positive allies, and creative supporters. Read about our values in detail here.
Giving Back
We believe that everyone should have the resources needed to find a fulfilling career. We believe that art and design businesses strengthen our communities and uplift our spirits. These are some of the organizations we are proud to support:
Course Creator
Alumni
Columnist
Teacher
Teacher
Aeolidians
---
We're Black owned, woman owned, and have 100% female leadership. Diversity isn't just a value for us, it's literally who we are as people, how we live and exist in the world and in our bodies. We believe our variety of backgrounds, beliefs, and experiences to be critical to our success.
Arianne Foulks
CEO & Founder
Arianne Foulks
CEO & Founder
Location: Seattle, WA
Arianne Foulks is a popular educator and small business enthusiast. As a champion for creative brands, she has a 18+ year reputation for thoughtful redesigns that help businesses level up. She loves having a problem to solve, and has focused throughout her career on building online homes for fascinating people. She will walk any distance, always has a pile of books by her bed, and was once bitten by an elephant seal.
Let's work together
One of the best teams on the planet. ❤️ I will be forever grateful for the ways you changed my business for the better. It was a pleasure to work with you and to observe the respect that each team member gave to each other. I'll never go anywhere else.
Ashley Jensen
Mouse in the House Shop
Let's take your online shop to the next level
The Shopify websites we design have a reputation for substantial improvements to ecommerce conversion rates and online sales. Let's talk!