We get questions all the time about the capabilities and limitations of Shopify blog design. Shop owners want to know: can I make a Shopify blog look exactly how I want it to? This includes: colors, logos, fonts, social links, graphic elements, etc. They also want to know if their blog will function how they want it to. Can I add an email signup to the sidebar? Can we embed our Instagram feed? The short answer to all this is yes, you can make a Shopify blog look and function any way you like. It all depends on the level of customization you want to invest in.
Picking a Shopify Theme vs. Using a Custom Theme
Your first choice is simple: do you want to use an out-of-the-box theme, or invest in a custom a Shopify blog design?
To help determine the answer to this question, ask yourself:
How important is it that your blog's design exactly matches your shop's brand?
How actively are you using your shop's blog as a sales and marketing tool, both to acquire and convert customers?
The answers to these questions are based on your specific business goals. If blogging is an important part of your marketing strategy and design is important to your brand, you might want to think about investing in a custom Shopify blog design.
An out-of-the-box theme is less expensive, but it's usually limited in its customization options, which includes where certain important elements are displayed within your blog design. If you're not planning to use your blog as a sales tool or you haven't nailed down your shop's branding yet, a custom blog design might not be as important to you.
Limitations of Shopify Themes for Blogging
All of Shopify's themes have blogging capabilities, but some themes have more built-in blog functionality than others. If you're going to use a Shopify theme without any customization, check whether its blog capabilities will work for your needs. You can do this by carefully reading the theme descriptions and checking out examples of Shopify stores using that theme to blog.
Customizing a Shopify Blog Design
Customizing a Shopify blog design opens up a lot of options. In fact, if you have a custom theme created for you, your Shopify blog can look pretty much however you want it to. Rather than trying to find a theme that contains all the important blog functionality you're looking for, you can design it from the ground up.
This is particularly important for shops that plan to use a blog as a content marketing tool that drives traffic to the shop. You have a lot more control over not only what your blog looks like, but how it functions as a sales tool.
Shopify Blog Design Basics
Here are some things to think about when assessing a Shopify theme's blog functionality or considering whether you want to customize a Shopify blog design.
What do you want your blog's homepage to look like?
What should a search results, or index page look like? Is this an important page on your blog?
Where do you want your most recent posts to appear on your website? Anywhere aside from your blog home page?
Do you want a side column? If so, what should be contained in it?
Where do you want sharing buttons to appear?
Elements to Include in a Shopify Blog Design
In addition to matching your shop design, your blog should help sell products and connect with shoppers as well. These blog features can help you do that:
Email signup form
About Us snippet
Links to products or product categories
Social links
Social sharing buttons
Recent Shopify Custom Blog Design Examples
The benefit to working with a Shopify developer is that you can design your blog to look exactly how you want it while giving it the functionality you're looking for when it comes to organizing content. We thought we'd share some recent Shopify blog designs we've worked on so you can get an idea of the platform's design versatility when you're doing something custom.
Shopify Blog Design for Jewelry Designers
For jewelry designer Dani Barbe, we designed a Shopify blog with a minimalist look and feel that matches the shop's sophisticated branding (right down to the diamond-shaped social sharing buttons!). Because the blog is designed to sell products, we included links to the collections in the sidebar.
Love, Georgie's Shopify blog design also matches her jewelry shop's branding, and like we did with the Dani Barbe blog, we included links to the shop categories. This blog also includes an email signup bar, so readers can subscribe to shop updates from the blog page.
Shopify Blog Design for a Bath & Body Brand
With Mafu, we again designed a blog that matched the shop's branding, and we included a personal snippet about the founder in the sidebar, which helps readers connect with the brand.
Shopify Blog Design for Home Decor shop
We knew blogging was going to be very important to for Nest Interior Design, so we designed a minimal custom blog that really helps the images in each blog post stand out. We used the blog sidebar to provide some background information on the business as well as promote both archival blog content and products in the shop.
Shopify Blog Design for a Children's Clothing Brand
The blog we designed for children's clothing brand Well Dressed Wolf matched the shop's branding and also had a minimal look and feel to allow the images and content in each post to stand out. Again, the blog sidebar links to popular shop categories for a seamless connection between content and product sales.
Your Turn
What questions do you have about Shopify blog design? How do you plan to use your blog to promote your shop? Do you think you'll need a custom design or are you searching for an out-of-the-box solution with a Shopify theme? Let us know in the comments!
Blog post ideas
In this downloadable PDF, I've put together 260 blog post ideas (which you could also use for your newsletter or Instagram), introduce you to 9 ecommerce blogs that are absolutely killing it, and give you an action plan for generating more ideas of your own and getting started.
Get your 260 blog post ideas PDF here: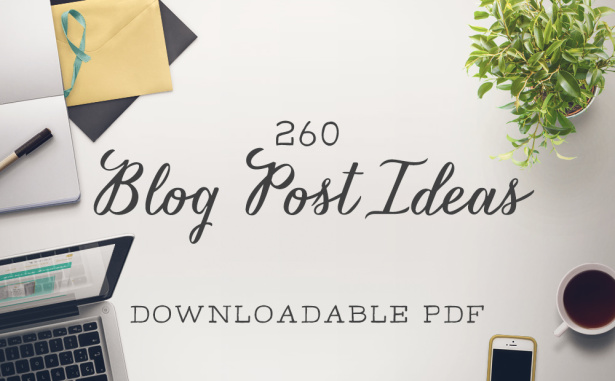 Newsletter Sign Up
We write a new email each week to help you grow your business.
Related Posts
Let's take your online shop to the next level
The Shopify websites we design have a reputation for substantial improvements to ecommerce conversion rates and online sales. Let's talk!