We've spent some time on our blog recently talking about the importance of blogging for your business, and giving you lots of ideas for what you can blog about! Often, when clients come to us for a custom website design, they are unsure about whether to include a blog directly on the Shopify platform, or to build it on another platform such as WordPress.
For the great majority of our clients, we recommend using the Shopify blogging platform. A Shopify blog is simpler than a WordPress blog, but most shop owners don't need any bells and whistles. Managing two sites can be expensive and complicated, and promoting your work from a separate site/URL at WordPress is going to be harder than from inside your shop, where you can easily link to products without confusing people. The Shopify blogging platform is a great option!
I thought it would be fun to pull together a round-up of recent Shopify blog examples for you so that you can see what we are able to achieve both with design and features using the Shopify blogging platform.
Like Stacia from SmartyPits, most of you who are busy building your businesses are using your blog to share news and updates with your customers. Having your blog on Shopify means that you only have one admin to login to whether you are blogging, adding new items to your shop, or fulfilling your orders. This also gives your customers a seamless shopping experience; they can click over to your blog to learn more about your business without leaving your website.
View this project in our portfolio »
20×200 uses their blog to take visitors on behind the scenes studio tours, curate art print picks from tastemakers and trailblazers, provide news about the art world, and more. They also spotlight new releases from the artists they work with, which is a smart way to bring customers back to your shop once they have clicked over to your blog.
View this project in our portfolio »
You can use your blog sidebar to introduce yourself to your customers with a photo and some information about you. I also love the way that the Muddy's Bake Shop blog includes popular posts in the sidebar, which is a smart way to tantalize visitors to spend more time on your website.
View this project in our portfolio »
The new Mercury Mosaics blog is a great example of the features that can be included on a Shopify blog: blog categories, social media sharing, a newsletter sign-up, sharing links to popular posts and freebies, and behind the scenes videos – these are all great ways to interact with your customers using your blog.
View this project in our portfolio »
We had some fun when designing the new blog for printmaker Katharine Watson. Her blog posts offer a glimpse behind the scenes of her traditional hand-carved block printing process.
View this project in our portfolio »
Are you ready to start making your website work for your business?
Your blog can be an important part of your marketing strategy, and it's important when designing one to match your site that you take advantage of the ways that your blog can help you grow your business. A blog isn't just about being pretty or fun; it's about strategically driving traffic to your website, enjoying tons of love from Google, and making your other marketing efforts easier.
We'd love to help! Talk to us about creating a custom website for your business – one that is a strategic tool you can use to reach out to customers and press.
260 Blog Post Ideas for E-Commerce Businesses
In this downloadable PDF, I've put together 260 blog post ideas (which you could also use for your newsletter or Instagram), introduce you to 9 ecommerce blogs that are absolutely killing it, and give you an action plan for generating more ideas of your own and getting started.
Get your 260 blog post ideas PDF here: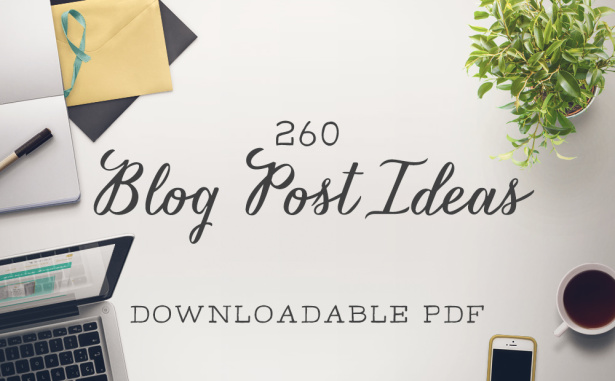 Newsletter Sign Up
We write a new email each week to help you grow your business.
Related Posts
Let's take your online shop to the next level
The Shopify websites we design have a reputation for substantial improvements to ecommerce conversion rates and online sales. Let's talk!