I recently spoke at the Dream Rock retreat in Sedona about creating a website content strategy. I showed some example websites from our portfolio on Aeolidia that had very well-organized, goal-based navigation, and then during the Q&A time, someone asked me, "I noticed that all the sites you showed us had a blog. Do I need a blog for my business?" We talked about that briefly as a group, and when we chatted in person later, she thanked me for the insight and confessed to me that she didn't have any idea that blogs drove traffic to a website, but instead thought that blogs were, "just something women liked to do." This really surprised me, and I made a note to tackle this topic on our blog.
So, if you think that women business owners are blogging because they're chatty and enjoy sharing their lives, think again. These women (and men, of course!), are strategically driving traffic to their websites, enjoying tons of love from Google, and making their other marketing efforts easier. Let me explain how.
What is a blog?
A blog is part of a website that displays articles. Your articles (or blog posts) are usually updated on an ongoing basis, listed in chronological order on your blog, and show dates of posts and an area for people to comment. Some websites are blogs (you go to the main page and see the posts), and some websites contain many pages, with a blog being one of the pages on the site. This article is mostly about ecommerce websites also including a blog, though I'm also talking about service providers, who want to supplement their portfolio with a blog.
Do I need a blog for my business?
No, you don't. There are plenty of other ways to drive traffic to your site without a blog, and if you don't have the time or the talent (or the money to hire someone) to start a blog now, it is fine to concentrate on other ways to bring people to your website and keep them engaged. But the blog is such low-hanging fruit, if you're able to do it that I would recommend it.
I resisted starting a blog for a long time. Then I did it a couple of years ago, and now that's how we get most of our traffic.
A blog will bring traffic to your site
Um, heck yeah it will! If you write useful, interesting, or inspiring articles, your readers will share those with their network and bring new people to your site. For an ecommerce site, it can be easier to promote a post about a product than to try to promote just a product itself. Blogs can be used for giveaways and contests, or to announce sales, all of which will keep people reading and will bring new people in as people share the good news.
A blog is good for Search Engine Optimization (SEO)
Yes, absolutely! Think of it this way: an ecommerce site without a blog has a handful of informational pages (about, contact, FAQ), then all the products. If you add in a blog, that adds to the number of pages on your site which have content that others are linking to (Google likes that), with as many juicy keywords about your business as you'd like. If you decide to blog once a week, at the end of the year you'll have 52 new pages on the site that Google will be returning to people who are searching for exactly that type of content.
A blog can establish you as an authority
Regularly writing posts for your blog (and guest posts for other peoples' blogs) will showcase you as an authority on your subject, whatever it is. If your competitors don't have a blog, and you're continuously showing up with timely articles about trends, techniques, and news about your industry, you will have the edge and appear to be a leader in your niche.
A blog can make your other marketing efforts easier
What? It's true! If you've gone to the trouble of writing a blog post for this week, you can now use that post to promote your site without having to come up with any new content. Grab a photo and paragraph from the post and put them on Instagram. Pin the most compelling photo from the post to Pinterest with a blurb interesting people in heading back to the blog. Tweet about your post with a link, and let everyone know about it on Facebook. Ask your colleagues to share your great new article. Include a blurb and a link to your blog post in your newsletter. You don't want to only be recycling content on these social media outlets, but remember that people want to hear about your blog post – go let them know about it where they're hanging out!
A blog humanizes your brand
As creatives, handcrafters, and makers, people come to us because they enjoy being part of our world, rather than hitting the big box stores. That means they'd love to hear a bit about your personal life. Of course you need a balance, and your blog can't be all baby pictures, but taking the time to share a bit about your life, your process, your team, or your opinions can draw people in. Even sticking to business, but infusing your posts with your own voice, sense of humor, or outlook on life can serve to make you more real and compelling to your customers.
A blog drives sales
Above all, a blog can drive sales or be used to steer your readers to help you with your business goals. You aren't writing these posts selflessly, entirely to entertain people. You want something from them, and each of your posts should have a call to action: something you're asking your readers to do. For ecommerce stores, this will usually be to purchase a product, so make sure after you talk about the product, you give people a link to go take a look at it. You can also use a blog post to ask people to sign up for your newsletter, follow you on social media, share info in the comments, vote for you in a contest, share your site with their friends, attend an event you'll be at, go read another great blog post you wrote, look at your portfolio etc.
You want the time you spend on each blog post to have value, and the best way to do this is to have a business goal for each post, then write it in a way that will help you with that goal.
What if you don't want to blog?
I mentioned that there are other things you can do if a blog is not for you. Read the followup post, What to Do If You Don't Want to Blog.
More help with your blog
Dig into our big blogging category here to learn how to start a blog or improve your existing blog.
Do you have a blog? Are you thinking of starting a blog? What questions do you have about blogs for business, or blogs on ecommerce sites? Please share in the comments. I'd love to offer some personalized tips.
260 Blog Post Ideas for E-Commerce Businesses
In this downloadable PDF, I've put together 260 blog post ideas (which you could also use for your newsletter or Instagram), introduce you to 9 ecommerce blogs that are absolutely killing it, and give you an action plan for generating more ideas of your own and getting started.
Get your 260 blog post ideas PDF here: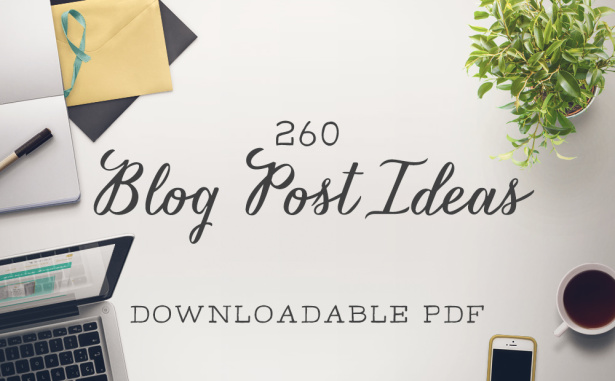 Newsletter Sign Up
We write a new email each week to help you grow your business.
Related Posts
Let's take your online shop to the next level
The Shopify websites we design have a reputation for substantial improvements to ecommerce conversion rates and online sales. Let's talk!