We've been talking about why you should blog and what to do if you don't want to blog. If you have decided that you will start a blog or a newsletter, or you'd like some more ideas for an existing blog or social media, I've come up with a big list for you.
I've put together 260 blog post ideas (which you could also use for your newsletter or Instagram), introduce you to 9 ecommerce blogs that are absolutely killing it, and give you an action plan for generating more ideas of your own and getting started.
Get your 260 blog post ideas PDF here: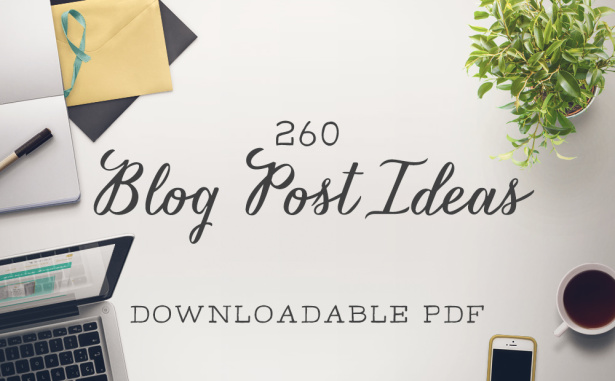 Get some content ideas!
When I was toying with the idea of starting a blog a few years ago, I (luckily!) happened to be sharing a hotel room at Altitude Summit with a blogger who is never short on ideas, Jessika Hepburn. She thought it was a good idea, and I asked, "well gosh. What will I blog about?" A fountain of ideas burst out of her and I grabbed my pen and notebook, jotted them down, and prepared to begin.
It was an enormous help to have that little kickstart at first. I currently have more ideas of what to blog about than I have time to blog right now. I think of blog post ideas throughout the day as I talk with our clients, and I usually have three or four article ideas humming in my head at any given time, if I could just get some quiet time to sit down and write them out for you.
Ensure that you're not stuck facing a deadline with no idea what to post about with this list I've pulled together. This focuses mostly on creative product-based businesses that are blogging to promote ecommerce sites, but many of the ideas will apply to any kind of blog you're putting together.
I am dividing this into rough types of posts, with some example posts that would fall under that heading. Grab a few post types that make sense for your business. Start with these ideas and add your own as well.
Get all 260 blog post ideas here
Behind the scenes
What this is: Particularly for handcrafted creative businesses, your customers shop with you because they're interested in your story. They want to know how you get your ideas, how you make your products, who helps, why you do what you do. In most cases, customers want to feel like you're a real person who they relate to.
How this helps you: A customer who gets absorbed in your story will be more likely to make a purchase, understand your pricing, and appreciate the service you offer.
Post ideas: 47 behind the scenes blogging ideas included in our PDF!
Inspirational
What this is: People often are searching the internet to feel inspired. Not necessarily to make something, but to see something beautiful, get a new idea about how to match things together, have an idea they can apply to their home.
How this helps you: Particularly if you sell clothing, accessories, or homewares, you can use this type of post to help clients picture your product in your life.
Post ideas: 67 inspirational blog post ideas in our PDF!
Informative
What this is: Let people leave your blog knowing some new information. What do you wish people understood about you, your business, or your products? With a blog, you can tell them.
How this helps you: You can explain your products to people, address their most likely objections about buying your product, and you'll have a link to point people to when you get a question on the topic.
Post ideas: 42 informative blog post ideas in our PDF!
Authoritative
What this is: Posts about the things that you're now an expert at, which may be new to your readers.
How this helps you: Build your authority by showing your expertise in your field. Trust and respect from your customers makes it easier for them to purchase from you, and authority in your field could lead to great business collaborations. You probably know more than you think you do!
Post ideas: 44 authoritative blog post ideas in our PDF!
Collaborative
What this is: Finding ways to work with others on  your blog or theirs, cross-promote, or make a new creative collaboration.
How this helps you: Mentioning people you admire in your industry could lead to a stronger relationship with them. Building connections only helps a business. Creating community among your customers will increase their loyalty to your brand, and increase your "word of mouth" factor.
Post ideas: 32 collaborative blog post ideas in our PDF!
Examples of smart ecommerce blogs
The folks below really know what they're doing, and I would recommend looking around their blogs so you can see what it looks like when it's done right. Of course, you don't want to copy any other work, but you wouldn't try to put together your own magazine having never seen what a good magazine looks like before, would you?
The Tattly blog shows tattoo hacks, interesting ideas like tattooing Easter eggs, collaborations with other businesses, and behind the scenes of where and how they work. Tattly's blog makes you root for their business, feel like one of the cool kids, and want to buy a boatload of temporary tattoos!
The Rare Device blog keeps you up to date on trunk shows, events, and new products, but also takes you on studio tours, explores interesting art, and supports their community and their makers. Their blog makes you certain that they're passionate about and dedicated to the artisans they work with, and on the cutting edge in their field.
The Uppercase Magazine blog shows fascinating glimpses behind the scenes of putting a magazine together, features shops that sell their magazine, and shares artwork and information that their readers will be interested in. Their blog interests readers in exactly what they're selling, enticing people to purchase the physical magazine itself.
The Moorea Seal blog features their designers, new products, interviews, sales, fashion how-tos, and press mentions, all in a stylish magazine-like feel. It's professional and personable, and positions them as a shop that really knows their stuff.
The Baby Jives blog shows room tours from their customers, gift round ups and giveaways, partners with and promotes other small businesses, and shares free printables. You can tell Jahje loves what she does, and all the photos and roundups are beautiful and eminently shareable.
Emily Ley's audience of busy moms love her updates about her own pregnancy and children, profiles of readers like them, and simple tips for living a life of "grace not perfection." Emily shares updates about her new product launches and drives an extraordinary amount of interest in each new project of hers.
The Skinny LaMinx blog is almost like a magazine, showing off Heather's inspiration, new products, press mentions, home tours, art, and architecture. It's all perfectly "on brand" and a delightful read that will engage her customers.
The Twigs & Honey blog showcases "real bride" wedding photography with brides wearing their headpieces, new products, events, and collaborations, all tied together with simply stunning, on-brand photography. The photography makes Myra's business look far from "homemade" and elevates the handmade to an exalted status.
The 1canoe2 blog is a great mix of lifestyle, products, giveaways, and even crafts you can make at the end of the year with their calendar artwork – smart! Also graffiti, barn-painting, process posts, and very specific printable cards (for waiters, dog sitters, etc.). They don't post often, but when they do, it's high-quality, on-brand, and a delight.
How to pull this all together
Okay, ideas galore! Now how are you going to get this all organized?
Step 1: what is your objective?
Before being able to plan your blog, you should know what your goals and objectives are. Are you primarily trying to increase traffic to your site? Do you want to create community or spark collaborations? Are you interested in having a platform for sharing what matters most to you? Keep this objective in mind as you plan posts, and ask yourself with each post idea, "how will this help me meet my objectives?"
Step 2: who is your reader?
If you're committing to writing a blog, you really need to know who you're writing to, and focus tightly on that person. Once you know what she likes to read, what she's interested in, and what she'd like help with, you'll never run out of ideas. Just think to yourself, "how could I help Lucy today? What would make her laugh? What would she think was pretty?" and you'll have some post ideas ready. Our article about finding your dream customer will help with this.
Step 3: what is your blogging "voice?"
You need one way to talk to your readers that fits your brand like a glove. The first step to capturing your voice is to understand your Unique Selling Proposition. Learn more about USP here. Once you really know your brand, your voice should be fairly easy to capture.
Step 4: pull your ideas together
Start with the above ideas, and then expand on that. Adjust the ideas above that don't apply to your business until they do. Brainstorm everything you know about your company, what you believe in, what you want to do, where you've been, and who is interested. Don't worry if the ideas are good or not, just get them all out there. Then you can come back when the brainstorm has passed and your "blog garden's" soil is wet with little post idea sprouts peeping their heads up. Thin out the ideas that don't fit, and plan to grow the ideas that will work for your blog.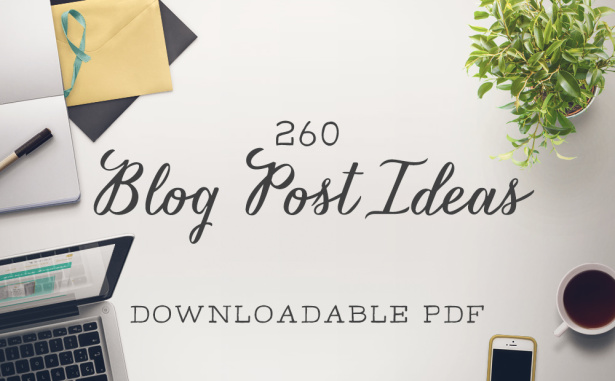 Contest winners!
All commenters the week this post was originally posted got five blog post ideas custom to them in the comments (scroll down, it's a good read!). A grand prize winner won a 6 month editorial calendar from me, specific to their business. See how it went down here.
I'd love you to share these blog post ideas with your creative business friends:
Newsletter Sign Up
We write a new email each week to help you grow your business.
Related Posts
Let's take your online shop to the next level
The Shopify websites we design have a reputation for substantial improvements to ecommerce conversion rates and online sales. Let's talk!