So you've heard that you need a blog for your business, to use as a marketing tool. In my last post in the product-based business blog series, I covered how a blog drives traffic and sales. I'm sure a lot of people read that and thought, "oh no! I don't want to blog! I hate writing." Well, I'm happy to say that you don't have to have a blog if you don't want to. There are alternative ways to market your business instead of blogging.
Is this you?
I don't have time to blog
I'm not a good writer
I don't know what to blog about
I feel like I have to blog, but I don't want to!
The thing about blogging is that it's not going to work for you if it's halfhearted or grudgingly written. If you're not interested in it, your content won't be inspired, valuable, entertaining, or unique. People won't stick around. Having a good-quality blog is going to be a huge boost for your business. Having a sporadically-updated mediocre blog is only going to waste your time. Time which you could be using to market your business in another way.
If blogging feels like something you don't want to do, I'd first suggest that you think of a way to make blogging work for you. If that doesn't work, then I'd move on to another way to market your business.
Make blogging work for you
When you think of blogging, I bet you have a particular blog or style of blog in mind. When you think that you don't want to blog, maybe you're imagining that type of blog, which is just not a good fit for you. But there are a lot of different ways to blog! Think about your interests and your skills and get creative.
I just don't feel like a strong writer
If you're thinking of blogging as long, researched posts, eloquently written, and something that's out of your skill set, instead approach your blog in a way that works for you. Instead of long wordy posts, your blog could be:
A photo blog – lots of beautiful photos, each with a simple, keyword-using caption
An illustrated blog – your own artwork, with captions, and possibly downloads, such as free wallpapers or printables
An infographic blog – these types of graphics are shareable
An audio blog – you can record what you want to tell people, and transcribe it into text as an SEO (Search Engine Optimization) bonus
A video blog – take videos of yourself – behind the scenes, tutorials and how-tos, and updates about your business
A curator's blog – gather together products you like into collages and briefly set a scene with words
Remember that the less writing you have on there, the less search engine keyword benefit you'll be getting, but these other types of posts can have value, too.
I can write, but have a hard time getting graphics together
Maybe you like writing, but turning it all into a full blog post with photos and graphics seems like too much to do. Here are ways to make that easier:
Don't have graphics in your posts. It will make them slightly less shareable, but it's not a requirement
Create a template (or three) for blog post headers, and re-use it over and over
Purchase or download free stock photos instead of taking your own
Hire an illustrator or graphic designer friend to team up with you
I feel like I could blog, but I can't find the time
Blogging does take a lot of time! If you're going to commit to it, have a plan for how you're reasonably going to publish on the schedule you've set for yourself. Here are some ideas for finding time for blogging or making blogging take less time:
Start with a reasonable schedule – don't get too ambitious before you've tried it out
Create an editorial calendar (more about this in a future post)
Hire someone to blog for or with you
Request submissions from people in your field
Show off customer photos or stories about your products
Share other peoples' work on your blog (with their permission)
Hire someone to take over some of your other tasks, so you'll have time for blogging
Create a multi-author blog, where you're only responsible for some of the posts
Instead of having a blog, have an "articles" page
Articles instead of blogging
Blogging is not only time consuming, but it stays that way. If you commit to blogging, you'll have to continue blogging on the schedule you set, basically forever. If this neverending responsibility is too daunting for you, you can accomplish almost all of the marketing benefits of blogging without actually having a blog. You can do this by having articles.
What is the difference between "articles" and "blog posts?" Not much! Articles are blog posts, they just don't have dates, and there is a limit to them. For instance, you may decide to write 10 articles for the new Articles page on your site. Once you've written them, you can just be done. Or you can add to them any time you feel like it, without feeling stressed by a schedule.
In fact, this is what we recommend to clients who had a blog, get some good search engine traffic from their past posts, but don't intend to blog anymore. We change the link "blog" to "articles," adjust the Articles page to list each article, and then remove dates from the posts. Google will still send the traffic, but people won't be expecting more to come.
So if you can muster up the time and energy to write a handful of high quality, keyword-infused, informative, entertaining, and valuable articles, you can see all the benefits we talked about here, but without the constant demands on your time.
What to do instead of blogging
So, if none of the above felt like a good fit for you, and you still don't feel like blogging is the answer, what can you do instead? "Content marketing" is a buzzword these days, and that means marketing your business using content. But guess what? "Content" does not have to equal "blog posts." Content is pretty much any media that your visitors can consume in some way. Instead of writing blog posts, you can:
Record podcasts
Record videos
"Microblog" on social media (a photo and a thoughtful paragraph)
Advertise
Pay for search results on Google
Work on your search engine optimization
Guest blog for other people
Get others to blog about your business by pitching your story
Host a webinar
Write an ebook
Teach online courses
Host creative events
Enthusiastic marketing on other channels is going to serve you much better than lackluster blogging. Get out there and communicate where you feel most comfortable.
And you know what? If you do any of the stuff in the list above, it couldn't hurt to have a blog to share it. Gotcha! For instance, embed your Youtube videos with a paragraph about them. Link your podcast episodes with the text transcribed. Share your newsletter content on your blog. Share chapters of your ebook as blog posts. Make it all a lovely tapestry of marketing efforts.
Focus on your mailing list
I think everyone should have a newsletter, regardless of whether they're blogging. Maybe you'll feel more comfortable sending chatty, personal emails rather than writing more formal blog posts.
I asked Jena on our team for her perspective, and she told me:
I think a mailing list is the first and best option in terms of connecting with customers and more important than a blog in the first place. Most people, especially product sellers, don't utilize their mailing lists well or focus on building up their audience there, which is a big mistake because those are the folks who are wanting and asking to connect with you. You can do a newsletter instead of a blog and send it bi-monthly or weekly or more often leading up to holidays/new launches. These can be mostly visual for the non-writer types, sharing behind the scenes pics, sneak peeks, favorite Instagrams/pins from the week, etc – these really are the best way to stay in touch and start to bring traffic back to your site and I think the #1 priority over a blog or social media presence.
How do you feel about blogging?
Do you feel like blogging is not for you, and have you pinpointed something else that you would like to do? Or do you see that you can shape your own blog in a way that works for you, and are you excited to do so? Again, I'd welcome any questions about blogging or content marketing in the comments. Let's hear about your unique problem!
260 Blog Post Ideas for E-Commerce Businesses
In this downloadable PDF, I've put together 260 blog post ideas (which you could also use for your newsletter or Instagram), introduce you to 9 ecommerce blogs that are absolutely killing it, and give you an action plan for generating more ideas of your own and getting started.
Get your 260 blog post ideas PDF here: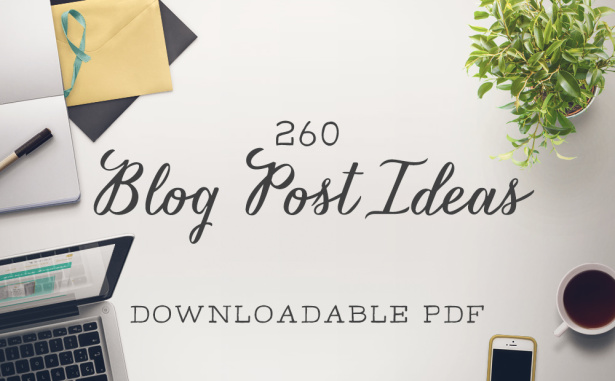 Newsletter Sign Up
We write a new email each week to help you grow your business.
Related Posts
Let's take your online shop to the next level
The Shopify websites we design have a reputation for substantial improvements to ecommerce conversion rates and online sales. Let's talk!