Exhibiting at your first trade show is an exciting step! Done right, it can be a huge factor in the success of your creative business. It's an unparalleled way to put yourself and your products in front of thousands of boutique store owners and big box retailers. A small business can start swimming with the bigger fish at a trade show. But are you ready?
Do you have a viable product?
Before investing your time and money in your first trade show, be confident that you have a product that will sell well. The best way to do this is to get out there and sell it yourself. Some good first steps could be:
selling to local retailers
participating in a market or craft fair
doing a pop up shop or trunk show
selling on Etsy, Amazon, or another marketplace
selling on your own website
Learn from the feedback you get from your customers, and refine your product and brand. Then, once things are working well, trade shows can help you grow.
Do you understand your brand and customer?
Prepare yourself for success by understanding your own brand. What is the personality of your business? What are your values, and do you have a mission? Find something you can do better than others in your niche. Discover what makes your business unique and valuable to your customers.
It's important to understand exactly who your target customer is, often by creating a profile of her. How does your business align with her values and interests? Once you know who you're communicating with, marketing becomes easier.
At the trade show, you'll be able to showcase what differentiates your business. When talking with retailers, you'll know if your perfect customers shop at their store. This will make closing the deal a win-win situation.
Our client Stacia Guzzo is a perfect example of how great branding and a clear focus can take a business to the next level. A few years ago, she shared with us what she learned exhibiting at her first trade shows. Since that time, her company has continued to grow by leaps and bounds.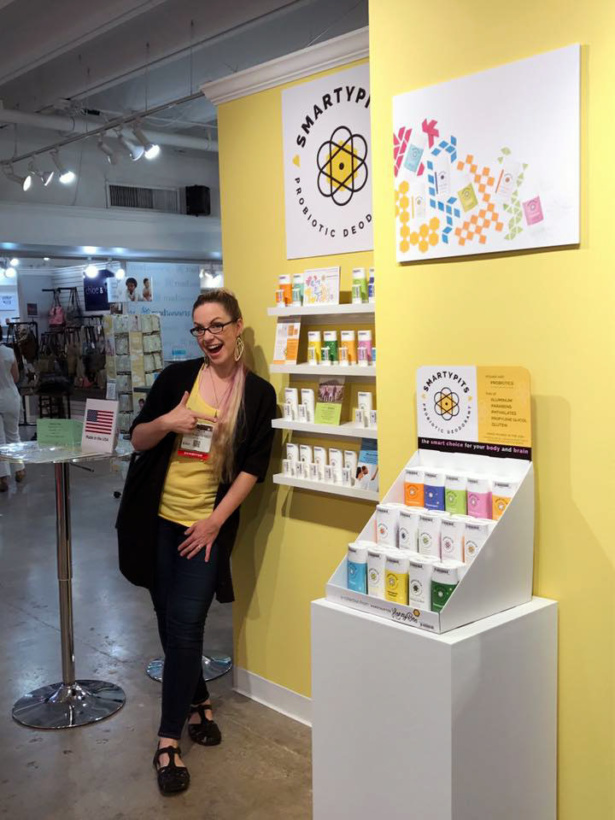 Do you have wholesale experience?
You'll be confident at your first trade show if you understand how the wholesale relationship works.
Brush up on wholesale lingo and acronyms such as lead time, MOQ, Net-30, SKUs. You don't want to be flustered when your dream retailer starts firing these terms off at you.
Make sure you've considered your order minimum, whether you'll offer exclusivity, and what your turnaround time is. Nail down an efficient sales process for the show. Make sure you avoid these common wholesale line sheet mistakes. If you're unprepared with these wholesale basics, shop owners will may lose confidence in you.
If you've been selling wholesale, you're ready for this aspect of a trade show. If this is all new to you, take some time to learn. You may want to seek out a few wholesale relationships on your own, do internet research, ask a colleague, or even take a class.
Is your brand ready for the big time?
Businesses that exhibit at trade shows tend to look polished and professional. You want to make sure your booth stands out, and can attract attention. This means your branding needs to be impeccable. Your logo should be unique, memorable, and relevant. The graphic look of your booth and marketing materials should be cohesive and of high quality.
You need a robust, yet focused product line that has enough variety to attract large orders. Your products should help boutique owners and larger retailers make money and delight their customers. "Good enough" is not going to be good enough, so invest in making the experience great.
How do I get my trade show booth to stand out?
Making your trade show booth look great will be easier once you've got great branding in place. When it comes to designing your trade show booth, you can really let your creativity soar!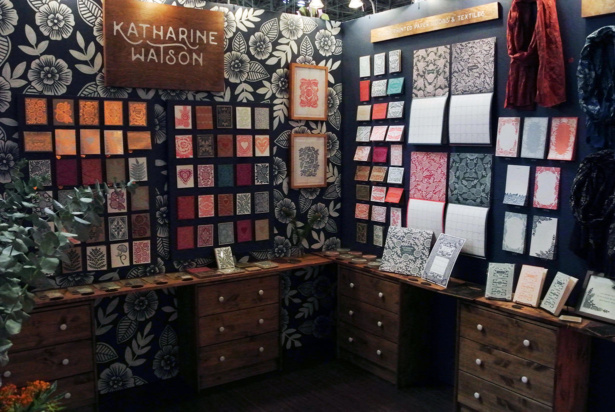 Here's what our client Sierra Zamarripa of Lovewild Design learned about designing a trade show booth:
We definitely think more about layout after doing a few shows. I loved our booth for our very first trade show, but it was a little awkward. We had my beloved mid century couch centered in the back of the booth and displays on either side. It looked great (we went for a groovy living room look), but when it came to talking about our products while struggling to squeeze in between the end of the couch and a 60s credenza, it was completely awkward. We now know the importance of corner displays and accessibility. Every show, we take a lot of care coming up with a completely different theme. We've done 60s living room, winter cabin, 40s kitchen, Coyoacán (think Frida Kahlo's house) & backyard! It really pays off when a ton of people stop by to appreciate the booth even if they're in the market for something we don't offer.
Check out these posts for more inspiration:
What should I bring to a trade show?
Lucky for you, we've created the ultimate trade show packing list, and you can grab it for free! Fourteen different stationery companies shared their own trade show packing lists with us, and we compiled it into a master list. You can also peek and see each business' exhaustive list, with things like how many catalogs they bring, etc. Grab it below:
How will you scale?
You may find that you need to grow your business, at least temporarily, to prepare for the show. If you're a solo entrepreneur, you'll need someone to help you get your booth set up and to assist with sales. You may want to hire a graphic designer to strengthen your brand, improve your packaging, or design your booth.
As you consider the best case scenario for your first trade show, also think about the logistics. How will you fulfill many large orders? How long will it take you, and what resources will you use? Be prepared for success!
You don't know what you don't know
It's hard to prepare for a trade show without having done a trade show before. Your first time will be a learning experience in one way or another. This is where being part of the National Stationery Show community is so valuable. You may be able to assist a friend at the show before exhibiting for your business. You can also sign up to walk the show and get a feel for it that way.
We have a lot of advice here on our blog about exhibiting at trade shows like NSS, NY NOW and Surtex. Check out this post for more advice for first time trade show exhibitors.
You can also turn to our online community over at The Shipshape Collective (aka our Facebook group) for support. You'll find plenty of discussions about trade shows that may answer some of the questions you didn't even know you had!
Don't overthink it!
Sometimes it's time to make the leap. If a thriving wholesale business is on your success list, a little preparation goes a long way. This is all achievable with a plan and some great work. See you at the show!
This article was originally written for Emerald Expositions, creators of the National Stationery Show.
Newsletter Sign Up
We write a new email each week to help you grow your business.
Related Posts
Let's take your online shop to the next level
The Shopify websites we design have a reputation for substantial improvements to ecommerce conversion rates and online sales. Let's talk!