I've been going to trade shows since 2016, and a lot has changed in that time. I started going because our community of shop owners wanted to know what to expect and how to prepare, and we put together many posts about preparing your booth and what to pack, etc. You can take a look at our trade show tips here.
Of course, there was a break during the quarantine days of the pandemic without trade shows. And many alternatives to connecting people in wholesale relationships have sprung up: Faire, Bulletin, and Shoppe Online, to name a few. Others, like Shopify's Handshake platform, have come and gone (with recent news that Shopify is now investing in Faire instead).
Since I started walking the trade shows, I've seen the National Stationery Show get absorbed into NY NOW, and *Noted: the Greeting Card Expo started up, then joined with the newer SF NOW. NY NOW has gotten smaller, and Shoppe Object appeared on the scene, getting larger every year (this year they're expanding with a second location in Manhattan's Lower East Side). For craft businesses, h+h cologne expanded to North America with h+h americas. There is always a lot going on at AmericasMart, and of course, this is just a tiny slice of the trade shows that exist.
I wanted to check in with some industry experts to see what their thoughts were on trade shows in 2024. Please continue reading for their takes on trade shows post-pandemic, and what you might get out of them.
Abby Glassenberg of Craft Industry Alliance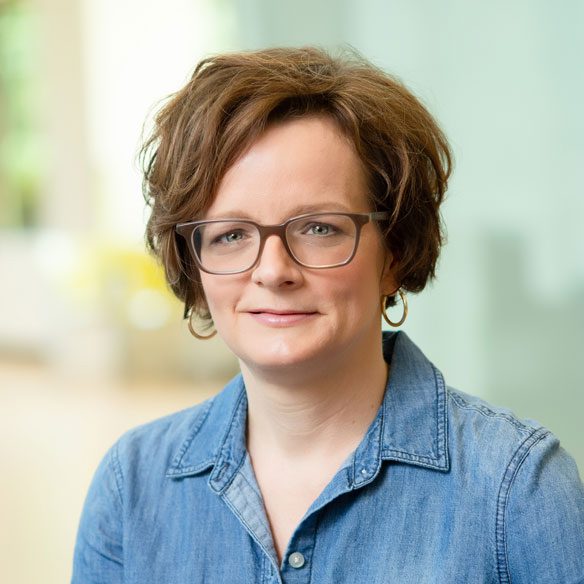 Abby co-founded Craft Industry Alliance and now serves as its president. She is a strategic partner at the h+h americas trade show, coordinating their educational offerings. She's dedicated to creating an outstanding trade association for the crafts industry.
I think one of the biggest advantages of attending a trade show in person are those happenstance meetings that occur in the hallway, or while you're talking with someone who introduces you to someone else. That kind of spontaneous connection can be very hard to recreate digitally, but can be incredibly valuable for expanding your network and making things happen in your business. So for me, that's a real plus when it comes to attending an in-person trade show.
When it comes to who should attend a trade show, I think there are opportunities for business people at nearly every stage. When I was new to business, walking the show and taking it all in, plus participating in the educational offerings, really helped me to understand the scope of the industry and how things work behind-the-scenes. This part of the business is really not visible to consumers and when you're new, it's really helpful to witness it and learn. For those folks who have been in business for a while, the opportunity to get face time with people who we typically only email or Zoom with is so valuable. You really strengthen your connection, and often come up with new ideas together that might never have happened otherwise. At the show, you also have the opportunity to get a sense of upcoming trends and feel the vibe. Those intangibles are very helpful for making good decisions for your business in the months to come.
One of the things that I feel has changed since COVID is the value that we all place on seeing one another in person. We were so isolated for three years and while that led to some innovations and new ways to do business, I think we also all realized that we missed being together. When we do have the opportunity to share a meal, or a drink, or just be in the same room together, we don't take it for granted like maybe we used to. Trade shows are the place for all of that good in-person connecting! I find that I come away with renewed motivation and a sense of happiness and satisfaction with my work after being able to connect with the people that it impacts the most.
Read more from Abby: How Trade Shows Can Stay Relevant in the Digital Age
Morgan Cros, CEO & Founder of Original Duckhead
Launched in 2012 by Founder Morgan Cros, Original Duckhead was conceptualised out of a core desire to encourage everyone to embrace the great outdoors, without having to sacrifice on style or sustainability. As a female owned and run business, they aspire to inspire, and are constantly investing in opportunities to lift up other independent sustainable brands.
If you're planning to attend any 2024 wholesale trade shows, make sure that you prepare as well as you can. Email your contact base more than once before the trade show so that they know you're attending. Send them all of the details, address, links to get a ticket and the booth that you'll be showcasing at. Make sure that you prepare flyers and business cards with all of your key information to ensure the customer journey is as smooth as possible. Once you have their customer data, follow up post-event with a phone call and email, after care is essential. 
Once you're at the show, offer your retail partners a discount to incentivise them for purchasing then and there. This is also a way of rewarding them for attending the trade show. Trade shows are an invaluable opportunity to meet your retail partners in person, get advice and information on operations and insight into how other start-ups operate.
If this is your first time showcasing your new collection or even a brand new product, trade shows are an excellent opportunity to get insight and feedback on your new products and designs. This is a chance to showcase your brand in a three dimension in the real world. 
Trade shows are amazing for team morale and building your company culture and relationships, particularly if you're a brand that predominantly works from home.
Most importantly, buyers specifically attend wholesale trade shows as they want to buy, they have the budget and they're looking for new brands to invest in. Trade shows capture your prime audience for sales.
Read more from Iona: Five Reasons To Showcase At Trade Shows As A Small Business
Katie Hunt, CEO & Founder, Proof to Product
Since 2011, Katie has helped thousands of brands successfully scale their wholesale revenue through Proof to Product's coaching programs. You'll find her client's products stocked on the shelves of Target, Nordstrom, Container Store, Urban Outfitters, REI and independent boutiques around the world.
Trade shows, although costly and time-intensive, remain a valuable way for wholesale buyers, sellers, and industry leaders to connect in ways that aren't necessarily possible online. Wholesale trade shows allow manufacturers and makers to introduce their products to a wide range of buyers including big box stores and independent retailers. These shows provide opportunities to get feedback on your product line, build relationships with new and prospective customers, connect with suppliers and sales teams… the list goes on and on.
From the buyer's point of view, trade shows enable them to hold, see, touch and even smell products in real life to ensure that they'd be a good fit for their store. Retailers can purchase from a large number of makers, selling a variety of product categories in a shorter amount of time than it would take for them to filter through online sales platforms or visit individual wholesale websites. Not to mention, the face to face connections are invaluable. And, all of it is under one roof.

But, the trade show landscape has changed so much since I started exhibiting in 2009, and particularly so over the last three years. Here are the shifts I'm seeing:

More options: Prior to the pandemic, we saw large numbers of creatives exhibiting at a select number of trade shows. For example, we used to have 75 – 100 of our Proof to Product alumni exhibiting at NY Now, with much smaller groups exhibiting at others shows. In 2023, we had a lower concentration of alumni exhibiting at each show, but we had folks exhibiting at a wider range of shows including NY Now, Shoppe Object, Atlanta Mart, Las Vegas Market, One of a Kind, Dallas Market, Noted, Top Drawer in London, Toronto Gift as well as shows in Australia and Japan.
Buyers and sellers have more options now. The large international gift shows are still popular as are regional shows, industry-specific shows and hybrid shows that combine wholesale & retail sales opportunities. Wholesale buyers and sellers are experimenting with new and different shows to see what works best for their businesses, which means attendance at the larger international gift shows have declined a bit.
More incentives: With the rise of more trade show options, it is critical for trade show management to take good care of their current exhibitors and attendees to keep them coming back year over year. For example, several trade shows have begun including wall packages with their booth fees to make it easier for exhibitors to build their booth displays. Previously, exhibitors would need to bring or install their own walls, but providing walls for exhibitors and including it in the exhibiting fees saves on set-up time, eliminates the need to source their own walls and provides peace of mind knowing that the walls will be installed when they arrive. These types of incentives factor into a seller's decision to exhibit.
Buying patterns have changed:  I've interviewed dozens of retailers over the last 12 months and their buying strategies have shifted. A few years ago they were placing less frequent and larger orders, oftentimes at trade shows where they could see the products in person. With the rise of Faire, retailers are placing smaller, more frequent wholesale orders. This shift is partly due to the buyer incentives that Faire offers (extended payment terms and free shipping being the main ones) but it also has to do with retailers more carefully managing their cash flow and how much money they have tied up in inventory. How does this relate to trade shows?  Buyers are using in person trade shows as a scouting opportunity to see products, meet with brands and yes, many people are writing orders at the show. But, many buyers are also taking information from brands at shows and then placing orders online later — later that day, later that week or month, or sometimes several months down the road. Because of this, we're seeing a longer timeline for wholesale sales conversions, in-person and online.
Trade shows are definitely in a state of evolution. Wholesale buyers and sellers are being more discerning about where they are spending their time, energy, effort and money. I think we'll see a continued rise in popularity of the smaller, industry-specific shows where buyers and sellers can not only conduct business but also build stronger relationships. The face-to-face connections and seeing products in person will always be the best source of new sales.
Free on-demand workshop: The Booth Blueprint: Three secrets to maximize your trade show investment and keep wholesale orders coming in long after your show ends.
Could You Use Actionable Tips to Improve Your Sales?
Our weekly newsletter will give you the tools and info to drive traffic to your site, promote your products, and grow your business. You'll get the following:
A week of our best-ever business-growing information
Weekly tips to help you market and sell your products
Access to our community of creative shop owners
Arianne's personal attention as you grow your business
Newsletter Sign Up
We write a new email each week to help you grow your business.
Related Posts
Let's take your online shop to the next level
The Shopify websites we design have a reputation for substantial improvements to ecommerce conversion rates and online sales. Let's talk!