We didn't even take pictures of half of the booths we loved at the National Stationery Show – there were just so many. However, we did keep our wits about us and capture photos of some of these beautiful booths. At the NSS, booth design is stunning! These ones were among the most elegant booths at the show.
Katherine Watson
Katherine's booth was about as gorgeous as possible. Wallpapered with one of her patterns, and perfectly laid out, this corner booth was the most beautiful booth at the show. The wooden sign, elegant furniture, plants and details and careful arrangement of her products made this booth a must-see.

Scotch & Cream
These booth was perfectly on brand and totally polished, from the furnishings to the gilt molding at the top of the booth. Everything went perfectly with the retro cocktail aesthetic of the brand, including some gorgeous promo materials and catalogs.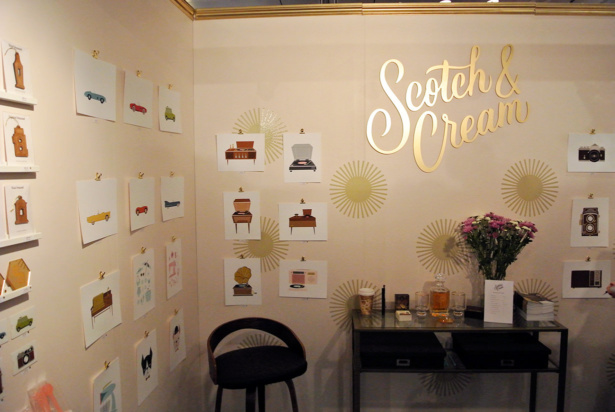 Lily & Val
Lovely architectural wall details on this one that helped you to feel like you were stepping into a shop. The walls were unique and the chandelier was a nice touch as well.
Pences Design Studio
The marble patterned wall, furnishings, and careful layouts made this booth stand out from the others.
Potluck Press
This origami crane wall was a standout, and the spinning card racks made it feel like a little shop.
Made in Brockton Village
The black wall in this booth really made the cards pop, and we also liked the painted flower details. Simple and clean made this booth stand out.
Idlewild Co.
Another lovely painted wall, and the wooden shelves were a great touch.
Clap Clap
The Clap Clap booth was perfectly polished, and we were bowled away by her scented card display. The cards smelled realistic, and so great! Unique color scheme for the booth, and products perfectly in sync with each other. One of my new favorite stationery brands!
We will be featuring advice and stories from NSS exhibitors throughout the summer! Sign up here to be notified when we have new stationery business info to share!
Newsletter Sign Up
We write a new email each week to help you grow your business.
Related Posts
Let's take your online shop to the next level
The Shopify websites we design have a reputation for substantial improvements to ecommerce conversion rates and online sales. Let's talk!