As a first time exhibitor, trade shows like NY NOW, National Stationery Show (NSS), and Surtex can be a daunting prospect for many small businesses. Even walking these shows as an attendee, like I have on behalf of Aeolidia, can be overwhelming. Luckily, our team has been attending these trade shows for a few years now, as a way to stay on top of industry trends and meet our clients in person. We also checked in with some of this year's exhibitors to share their trade show tips for new exhibitors.
What to know before you exhibit at a trade show
Generally, trade shows are not open to the general public, but attendees might include brick and mortar or online shop owners, designers and businesses who sell their products wholesale, members of the press, and suppliers to the trade who work with these types of businesses.
There are different shows focused on certain industries or types of products. Here are a few of the trade shows most popular with our clients:
NY NOW, NSS and Surtex now take place concurrently in February in New York City. POOLTRADESHOW and most of the fashion and wearable accessory shows take place twice a year in February and August as part of MAGIC Las Vegas. AmericasMart Atlanta and the Dallas Market Center each host a variety of trade shows throughout the year.
This is by no means an exhaustive list, but these are a few of the biggest trade shows.
This year's exhibitors share their trade show tips for new exhibitors
As far as what you need to know before exhibiting at a trade show for the first time, we'll let these trade show veterans share their advice:
The Art of Marbling
Heather RJ Fletcher
artmarbling.com
I am surface designer who is repped by MHS Licensing. What make my company different is I use centuries-old technique called marbling as the basis for my designs. Then I will sketch out icons and layer the marbling inside of image. The effect is something familiar but breathtakingly different.
Why do you show your work at trade shows?
Three reasons: It gives me a hard deadline for my new work. Being completely honest, I'd sit and over think every design having a deadline for artwork to be done keeps me focused.
The second reason is: tradeshows are a great way to get in-person time with manufacturers and art buyers. In-person you get candid feedback about your artwork.
Third: is it great to see what my fellow contemporaries are designing. One of my favorite things to do at the shows is to walk the floor and look at everyone's artwork. See how booths and displays are set up. I am such a fan of anyone who makes the effort to show at a tradeshow.
Also, I do not have a booth at every trade show. I target specific tradeshows or markets that I want to be involved in.
It seems like so much effort, is it worth it? If so, what makes it worth it?
Yes, it completely worth it for building relationships with decision makers. Even if they do not license or buy your artwork the first few times and you keep showing up year after year, eventually you might end up getting a deal.
Do you have a tip or two you'd offer to someone new to trade shows or something you just learned yourself for this one?
Don't try and do it by yourself. There are many moving parts and heaven forbid you get sick or life event happens and cannot attend. (Pretty much what happened for me this year but I was very happy that my agents were there to keep the momentum going).
I'd highly recommend joining an art collective to purchase booth space or get an agent to represent you. Both scenarios have pros and cons but the one thing I learned that it takes a village and if you work with a team of people the less alone you feel.
My other tip is: work on building relationships with people. I've gotten into places I have would have never gotten into because someone on my team has a relationship with a decision maker. When you are in those rooms – listen and observe. When you get back to the studio figure out how you can use that information in your creative process.
Another Creation
Michele Pulver Feldman
anothercreation.com
I am a mixed media artist who loves color and is not afraid to use it! I am a Parsons School of Design graduate, who believes in "serendipitous creativity". Since the beginning of my career, my work has never been tied to a specific artistic style. Instead, I use varied media to create my art. I create artwork that not only expresses my love of art history but also celebrates and reflects modern Jewish (and everyday) life. Inspired by Matisse, Picasso, Monet, Tiffany and Hockney, the pieces I create are often unexpected and whimsical.

My greeting card company, Another Creation by Michele Pulver, Inc. started in 1988, with the goal of creating inspirational, and meaningful Jewish New Year Cards. After these cards hit the market place, they became very popular because of the strong emotions they evoke. As our cards became more popular, we expanded our line of cards to include Season's Greetings and Chanukah cards, Jewish wedding, Bar/ Bat Mitzvah, and Sympathy cards. Besides my greeting card line, my vivid hand painted mixed media art has been used in a wide range of applications including home furnishings, giftware and paper goods.
Why do you show your work at trade shows?
Over the years, I have found that the contacts you make at a trade shows, are ones that can last a long time. Connecting and talking with someone in person, is invaluable. Even though I might not have the exact image that someone is looking for, they remember talking with me. They liked my style — we work together on projects. As a result, I have done many collaborations (mostly in the stationery & invitation market). For me, I believe this happened because they saw my work in person.
It seems like so much effort, is it worth it? If so, what makes it worth it?
I want to expand into new markets. I have found that I need to be pushed out of my comfort zone. Doing a trade show forces you to look at the work you have, make new images (that you might not have done otherwise) and push your work to the next level. I have actively been working/publishing my work in the stationery market for over 30 years. I think having a show to prepare for is a huge catalyst for forcing me to do work that was "always on the back burner" and making it worth the effort.
Do you have a tip or two you'd offer to someone new to trade shows, or something you just learned yourself for this one?
My biggest tip is to take a deep breath and relax. Setting up a trade show is filled with many unexpected bumps. For instance, yesterday, when I went to set up SURTEX, I arrived about 3 hours after set up began, and my booth was still just a mark on the floor. It did not exist (yet). I did not loose my cool. I spoke to the Decorating Company, and within a couple of hours, they had my booth ready for me. Apparently, the exhibiting company and the decorating company were not on the same page about when set up should begin. I later spoke to the head of the Exhibiting company, and told him that next time, they should say set up begins at 1:00pm on Friday. Not 8:00 am. He shrugged his shoulders, and looked at me like I had 1,000 heads. To say he could care less about the major inconvenience and cost of the delay is an understatement.
So my big tip is: breathe. Take it easy. Let go of your doubt. Don't let fear in. You've got this. And, yes, you will be ready!
Mable Tan Designs
Mable Tan
mabletan.com
Mable Tan is a Malaysian-born surface pattern designer, based in Melbourne, Australia. Mable uses a combination of digital and hand-drawn elements when creating her patterns. Her style is whimsical, folk-artsy and a twist of vintage. Some of her work is inspired by William Morris and features more intricate and elaborate patterns. Mable loves devoting her time and energy to creating beautiful things as it gives her a sense of joy. Mable exhibited at Surtex for the first time this year under an agent, ArtSHINE Licensing.

Why do you show your work at trade shows?
The same reason why people join pageants. It's the place to be seen, to be on a 'stage', to network (because it's about who you know), and above all, to push myself beyond my comfort zone and make my dreams happen.
It seems like so much effort, is it worth it? If so, what makes it worth it, or what do you hope to get out of it?
Absolutely. Personally, I am really proud of my portfolio. A year ago, I had no idea how to come up with a collection. This is an achievement to me, even if no one thinks so. As an artist, it's necessary to keep learning and evolving and this is what Surtex has done for me. I certainly hope to be licensed by a fabric company and have my designs sold all over the world. I'm a big dreamer.
Do you have a tip or two you'd offer to someone new to trade shows, or something you just learned yourself for this one?
Believe in yourself and dive deep. I had to work through Christmas and missed lots of social events. But I'd learned that to make a dream happen, we have to do the hard work and not just talk about it. Every effort counts towards changing your path. We are stronger than we think we are.
Alison Glass Design
Alison Glass
alisonglass.com
Alison Glass is a fabric designer for the home sewing industry and has recently launched a line of paper goods. While Alison has exhbited at Quilt Market before, this was her first year at NSS. She says, "With the move of the NSS date and not overlapping with Quilt Market we decided to just jump in. I didn't want to wait another entire year."
Why do you show your work at trade shows?
With Quilt Market it is more about continuing to show up to connect with shop owner and industry opportunities. Also as a way to show new work to people through social media at an event that some people follow online. With NSS it is the hope of getting the products in front of buyers.
It seems like so much effort, is it worth it? If so, what makes it worth it, or what do you hope to get out of it?
It is a lot of effort and I don't know yet if it is worth it. I am hoping that people will want to buy the products and that it will be worth it.
Do you have a tip or two you'd offer to someone new to trade shows, or something you just learned yourself for this one?
I don't enjoy a stressful set up. The more a person can do and figure out ahead of time the better and faster set up will go. It's not good to show up to the first show day exhausted because set up was rough. Having something visually appealing from a distance to draw people in is also a good idea.
Red Line Design
Sarah Stevenson
red-line-design.com
redlinedesign® is the brand name of photographer + artist sarah stevenson. we make museum-quality art and home decor with the simple intention of inspiring you — to look longer, travel farther, and discover more of the beauty that surrounds you. we believe good design matters and attention to detail is the greatest kindness. our products are special gifts meant to be passed down through generations. since its founding in 2008, our lifestyle accessories, original art and photography, photographic prints and stationery have been featured by retail and wholesale stores around the world.

Your top tip for success at a trade show:
Be prepared. Walk a show prior to investing in a booth so that you can make sure that it is indeed a good fit for your business. This will also allow you to see all the areas within the show where your booth may be a fit.
Take an online course such as Trade Show Bootcamp. Katie Hunt teaches you exactly what you will need for your booth and all the ins and outs of navigating how to set it up.
Bring help. Do not go it alone! Trade show days are long and you will need to take a break. Having 1-2 extra people that know you and your brand will be a life saver.
One improvement you plan to make for your next show:
Our brand's products are on the higher end of the spectrum. Making sure that my booth location represents this and that we are surrounded by more similar businesses will be key.
A surprising thing that's happened to/for you at a trade show:
Never underestimate the power of connection. I noticed someone walk past from a business that has been on my radar since 2008. I spoke up and started a conversation with the person. I was able to share my design story and history and through the course of the conversation, she took a catalog, products samples and gave me her personal email. Turns out she was the CEO of the company and I did not even realize it until we got to the end of the conversation. I followed up immediately with an email that evening, thanking her for stopping by and reminding her how we met.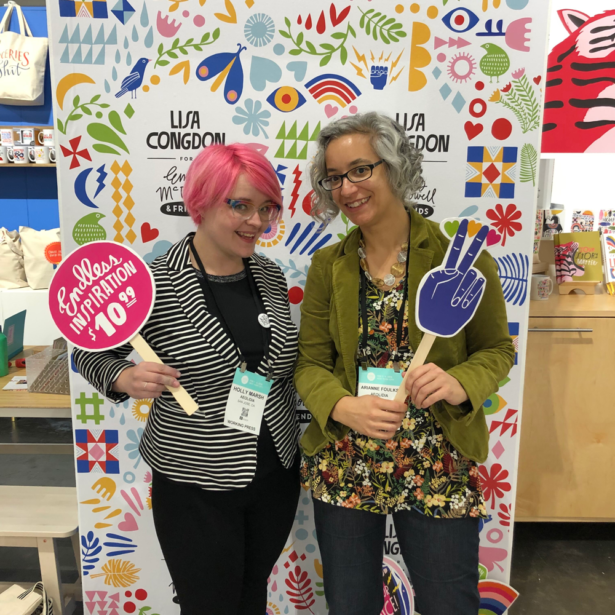 Ultimate trade show packing list
As you're preparing for your first trade show, I have some bonuses for you that should come in handy! First, check out these blog posts for even more trade show tips:
Also, 14 stationery companies shared their own trade show packing lists with us, and we've compiled it into a master list. You can also peek and see each business' exhaustive list, with things like how many catalogs they bring, etc. Grab it below:
Newsletter Sign Up
We write a new email each week to help you grow your business.
Related Posts
Let's take your online shop to the next level
The Shopify websites we design have a reputation for substantial improvements to ecommerce conversion rates and online sales. Let's talk!