Well, I did it! I came up with over 260 blog post ideas for ecommerce shops last week! I enjoyed meeting some fascinating new business owners and helping out some longtime favorites. I could easily begin my own blog about letterpress stationery now.
A reader told me:
"Wow, thank you so much, Arianne. You have some impressive, super-human creative talent to come up with these ideas so quickly…and for so many people! It took me over a week just to come up with this many ideas on my own."
Superhuman? No way! I used this system to come up with five blog post ideas for each person. You can easily use this formula on your own site to come up with many more.
System for coming up with your own blog post ideas for shops:
Read your About page and nab anything interesting, quirky, or vague to expand upon as a full blog post.
Skim past blog posts to see if you've mentioned anything that could be explained or featured in more detail.
Visit your product pages to think of questions new customers may have and look for special details about the product to expand on.
Visit your Instagram and Facebook posts to see what is popular and bring it back to the blog to add more photos and more to the story.
Check the FAQ page for big questions to answer in more detail in a blog post.
When you're trying to write about your own business, it's easy to feel that everything's interesting (because you are the star of your own story). You can also feel like nothing's interesting (because you're so accustomed to the day to day that you forget what is special about it). Asking a non-biz friend to step in and ask you some questions based on your site or what they know about your business can be super helpful. A fresh pair of eyes to point out what is interesting may be just what you need.
Things that stuck out to me:
Custom or client work should be supported with case study posts:
If you do custom work, for pete's sake, please include case studies on your blog! It is scary for people to trust you with their event, gift, logo, or ideas. Your case study should make your process clear, show why people should be excited to work with you, tempt them with beautiful finished products, and make it easy for them to feel comfortable sending a down payment to you. Include info on how you collaborate, and the final (positive!) feedback from your customer.
Don't pressure yourself by setting expectations too high: 
Many of you are "micro-blogging" regularly via Facebook or Instagram. "Real" blogging isn't that different or difficult. You're making it harder than you need to. The difference between an Instagram post and a blog post is a few more pictures and words. You can do it!
A blog can be anything you want, and I'd much rather see your shop blog stocked with short and sweet posts than sit empty because you're scared your ideas aren't mind-blowing enough. You don't have to blow people's minds every time, but you do need to show up regularly, be friendly, and provide value.
Give yourself some credit if you're doing a good job
A lot of folks are doing a great job with blogging – posting consistently and often with interesting topics that are relevant to their business. Those people didn't need my help but asked anyway, because the endless nature of blogging makes you feel like you're going to run out of ideas. You won't run out of ideas – you're doing fine! Give yourself a pat on the back if you're doing a good job!
Don't worry about being repetitive or redundant after a couple hundred posts – only you feel that way, because you've written every post. Hardly anyone will have read everything you posted, and as long as you have a new spin on each new article, it's fine to stick with topics that work well for your audience.
Remember who the blog is for – your customers
I see some people blogging about business – tips for time management, marketing, setting up a show booth. These posts are easy to write, because you're always in the thick of that stuff and it's what you know, but before posting a business-y post, think about your audience and your goals.
Are you writing to your peers or your customers? Is there a way to re-frame that business post so it's more of an interesting peek into what you do than a how-to for a business owner?
Getting tons of follows, likes and comments from your fellow business owners can feel good, but it's not going to pay the bills unless your fellow business owners are also your customers.
What to do when you want to blog but feel stuck
Some of you feel like blogging is a chore that you have to do. This comment particularly stood out to me:
"Hey, i've started blogging once a week for my biz but i feel like i'm being forced to do homework. I have no idea what I'm doing and am pretty sure i'm not making an 'emotional connection' either. Coming up with engaging topics that bring out the best about my little shop feels unfocused and confusing. I care about supporting artists and the beauty they create. I would appreciate any help or insight, just a nudge in the right direction."
Remember that you are the boss here! If you feel forced to blog, you're the only one forcing yourself. First, know that it's fine not to blog. Second, enjoy that there are no rules about blogging – it's your website and you can do what you please. If you decide that you do want to blog, try these three things:
1) Are there places where you like sharing about what you do? The commenter quoted above is active on Facebook and seems to be having a fun time there. How can you take what makes the one marketing method fun and apply it to your blog? The two things don't have to be very different.
2) Remember that there are readers on your blog, just like on Facebook or Instagram. They may be quieter, but they're there, and they're interested. You may feel like you're talking to yourself on your blog, because there isn't that easy "like" or "heart" feedback.
Don't write what feels like business book reports meant for Google's robots. Write to someone real.
Imagine your favorite in-person customer is standing right in front of you and you want to tell her what you've been up to, what you're excited about, what's going on with your business. Your blog doesn't have to be any different than a lively conversation with a person who has walked in to your shop.
If you are excited about your business (and you should be!), you can comfortably and confidently tell us about it on your blog and we will be excited too.
3) Don't make it too challenging at first. Start with an easy schedule (twice a month?), and topics and posts that you can pull together quickly and enjoyably. Once you get into the habit of blogging, you can work on longer or researched posts or start styling photography.
If it feels comfortable and you find you have more to share, you can always increase how often you post. Starting out by trying to blog daily will burn you out if it's something you're not excited about or used to.
Announcing the winner of the editorial calendar contest
Well, this was hard to choose! I wanted to pick someone that I could easily come up with a bunch of great ideas for, so I'd be sure I was offering something of real value. I can get a mental block sometimes when I'm on a topic I'm not interested in, but when I find something I'm into, I'm unstoppable.
I also wanted to pick someone who I thought had a real chance for success: a good writing voice, a product people will want to know more about, and a good website ready to sell. It's not much use to have a plan for blogging if you aren't going to be able to sell to your readers.
My final factor in choosing was to select someone who clearly needed the help. They didn't have many posts, hadn't blogged in a long while, or were new to blogging.
My winner is Lauren Quinn Ward of Felicette! She now has a strong brand, provided by Sarah on our team. She's built herself a great Shopify store, and she's been hard at work on her products and packaging. She has one post on her new blog and is ready to take off with a running start.
I will be getting together with Lauren in the next couple of weeks to help her make a plan. We will report back to you with info you can use to improve your own blog. What our plan was, and what results she saw.
260 Blog Post Ideas for E-Commerce Businesses
In this downloadable PDF, I've put together 260 blog post ideas (which you could also use for your newsletter or Instagram), introduce you to 9 ecommerce blogs that are absolutely killing it, and give you an action plan for generating more ideas of your own and getting started.
Get your 260 blog post ideas PDF here: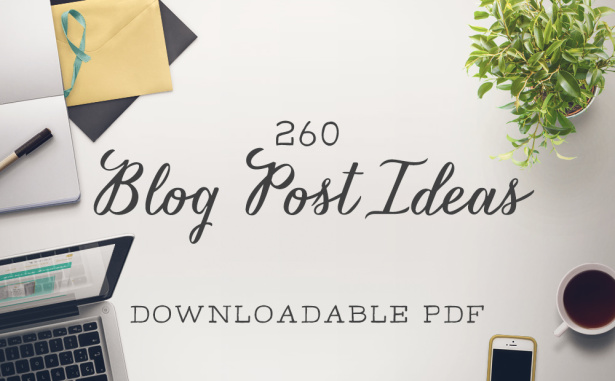 Newsletter Sign Up
We write a new email each week to help you grow your business.
Related Posts
Let's take your online shop to the next level
The Shopify websites we design have a reputation for substantial improvements to ecommerce conversion rates and online sales. Let's talk!