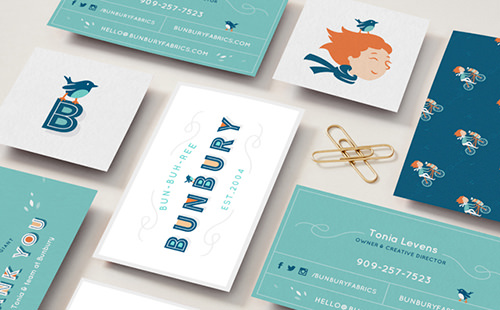 Rebranding can come at different points in a business's growth, but it inevitably comes. And sometimes along with it comes the time for a total do-over – you might decide to change your business name, create a new look, and really shake things up!
You may know the time is right for a change, but if you're changing everything about your business like this, you might be wondering how to do it in a way that will bring your old customers along with you, and even get new ones excited to join the ride.
This is exactly the hurdle that our clients Tonia and Dennis are tackling now as they work to transition their business, Fashionable Fabrics, into their gorgeous new brand, Bunbury.
Our copywriter worked with them to brainstorm a new name, and our designer gave them a gorgeous new look, but what are they supposed to do with it all now? How do you transition from one business identity to the other, in a seamless way?
That's where I stepped in to offer a rebranding strategy that will help them make the transition successfully, and we thought it'd be helpful to share that strategy with you.
So, if you've been thinking about changing things up in your business, read on for a simple rebranding strategy that will help you make the transition without losing customers, or missing a beat!
Baby your new brand
Let's start at the point where Bunbury is now and say you have the new branding done, a new name, you're prepping your new site in the background with all the content and products, and pretty soon you'll have to hang up your virtual open sign and relaunch your business with its brand new face.
Erg. Yeah, here comes the hard part.
This relaunch is your baby now – you have to research, plan, and get prepared to launch while it's cooking (while the site, design, and content all get into place.) Then, you get to decide its birthday and have a big ol' celebration! After it launches is actually where the real work begins, and you're going to have to put a lot of energy into it, especially for the first 9-12 months, to nourish it and help it grow into something that becomes more self-sustaining.
Do not rebrand when you don't have the time and energy to make this transition. You first have to create the space for it. Then create a plan around it. Then carry out the plan! (That last one's the hardest.)
It will take a lot of your time, care, and energy as you launch a rebrand for your business, so plan accordingly and see what else you can take off your plate in order to create more time to focus on making your relaunch as successful as possible. The energy you put into it is what you'll get back in return, so the more, the better!
Pick a launch date
Happy birthday, new business baby!
The first step is to pick a launch date that you can then work backward from, scheduling things out from the day you launch back all the way 'til you get to today. This will help you plan your outreach strategy and get everything in place before you have to start putting it out there so that you don't even have to think about it when the time comes. BE REALISTIC! Pick a date that gives you some buffer room for unplanned stuff or delays to come up, because they always do.
Bunbury is currently in the slog of transferring hundreds of items over to their new site and getting everything set up. While you're doing this back-end business stuff, it's the perfect time for the front-end of your new site to have a "coming soon" page up with a newsletter sign-up to collect email addresses of interested folks who want to be first to hear when you launch. You can (dare I use the word should?) offer an incentive here as well, an exclusive something or other they'll get when your rebrand launches, only by signing up!
You can also then announce this date, and start marketing it through your social sites/blog/newsletter and building up anticipation and knowledge around it for your current customer base. This is what will help create anticipation and excitement in your new brand, and get people interested!
Picking a date, and announcing it to your followers also helps hold you accountable to actually launch on that day. How often do we put our own big projects on the back burner for client/customer work? Uh, almost always! Not this time. This baby needs to be born!
Plant the seeds
What you really want to focus on for your rebrand strategy is that your CURRENT customers understand what's going on and come along for the ride with you to the new URL/site. Focus on informing your newsletter list & blog/social media followers about what they can expect to come. And do it OFTEN leading up to the launch.
People are busy. People don't see all your updates. People aren't paying attention. You can't tell your current customers enough how excited you are to launch with your new name and new look, and all the fun stuff you have planned for the launch party, how great it's going to be over on the new site, reminding them of the launch date, etc… so that it gets in their noggins!
This is called "seeding", which basically means planting the seeds in your customer's brains that you are going to be changing, that it's going to be awesome, and that they're going to get something out of it! (Customers don't often like change, until they see it…. then they're usually like, "Ooh, ok. Yeah, this is better" 🙂
I suggested to Bunbury that they get a physical printed something (business card, postcard, etc.) with their new branding and announcing their new business name, to include in all of their current orders going out. That's a great way to inform your current customers, who you know are already buying, and you want to make SURE they know they'll soon be buying from a new site!
As you're working on getting everything dialed in behind the scenes, the goal in front of the scenes is to inform & BUILD MOMENTUM!
Getting your social media consistently active now is ever so important, so that you can use the time you have before you launch to build up the relationship with your customer base even more, and reach out to more and more people.
Tonia was feeling nervous about getting more active on social media and sharing more, and I encouraged her to not be afraid to share! It doesn't have to be perfect and the best way to learn how, and see what best engages your audience, is just by doing it.
Plan a party
You want to plan a big celebration launch party! You want to make it a big to-do that will appeal to and excite your current customers, and also attract new ones who may not have heard of you yet. Launch with a celebration! This is a birthday, baby!
This means GIFTS! But not for you, for your attendees. Special offers, discounts, giveaways, contests, etc. There are a lot of fun things you can do, but whatever you do, plan to make it a big hurrah.
I always like the idea of giving your newsletter subscribers an extra special exclusive thing they can only get upon signing up. Maybe everybody gets free shipping for a week during your launch celebration, but only your newsletter subscribers get a special 2-day only 20% off coupon for example. Catchin' my drift?
Do not just stick your new shop up all of a sudden with no lead-up or anticipation and say, "Oh, hey. You can find me over here now…" and expect everyone to just follow you over there. To successfully retain your current customers, you have to plant the seeds. Inform. Create anticipation. Build momentum. Launch with a bang!
Create, and stick to, the calendar
Now, how to make it actually happen? Plot it out. Plan it out. Write it down. Put it on the calendar!
You have to make this real in order to make it happen. Bring it out of your head into the concrete world and plan those dates, then stick to them like you're your own client!
Remember what I said about picking a launch date and working backward? From there, you can plan something like this strategy for Bunbury:
4-6 weeks+ leading up to launch
Establish regular social updates "seeding" your launch in different ways.

Sneak peeks, behind the scenes, status updates of your feelings/excitement, new products, bits about what's different with the new site/what you're looking forward to, etc.

Create & build a media list of blogs/sites to send pitches to.

Gather info and ad rates and get ads and/or editorial in place to coincide with launch.

Create a variety of social graphics to share, in the appropriate sizes for each place you'll be sharing it, including new profile pics/backgrounds, etc. for your social media accounts.
Send at least one newsletter and blog post two weeks before launch announcing the launch date, giving sneak peeks, "Mark your calendars!," etc.
Set up your old website domain name/URL to automatically forward/redirect to the new one – this way, anyone who's been snoozin' will arrive at your new site the next time they try to visit the old one. You can decide if you want to put up a "formerly XYZ Biz Name" notice on your main page for a while.
Day before launch post on social: "Reminder – tomorrow we'll be changing to our new name! SO excited!" sort of thing…
On launch day:
Blog post and social announcements go up with a special offer that has a short deadline.
Send newsletter with launch announcement and special offer (maybe a different, exclusive one?) with even shorter deadline.
Change social accounts over to new name.

Yes! I recommend changing your username to the new brand name to keep the following you've already built, rather than starting from scratch with a new one!

Post launch announcements on all social media accounts throughout the day.
Send pitches out to blogs – "We just launched! Be the first to check it out!" etc.
After launch:
Send a newsletter a few days later reminding people of special offers & deadline to use them.
Continue to promote and share excitement about it all week! Share new stuff! Share great testimonials! Product pics from customers! Your excitement and feelings! Share share share! Keep people engaged!
And on and on…
This is where consistency becomes key in finding & keeping the customers that'll make your new brand grow strong!
Keep social posts active each week – regularly schedule and share.
Send your newsletter regularly every week or two weeks.
Send out 1-3 pitches to different blogs/sites/mags each week.
Keep sending out your postcards with orders about your new name/site well, until they run out!
So does this help, friends? Do you have a better idea of how to create a rebranding strategy for your own business?
Leave Qs for me in the comments below!
If you'd like the power of the Aeolidia team strategizing for your business, we offer branding and site design, and would love to help you rebrand your business beautifully and launch it into the world with success! Check out our business naming, brand strategy, and brand design projects in our portfolio, then come talk to us.
Could You Use Actionable Tips to Improve Your Sales?
Our weekly newsletter will give you the tools and info to drive traffic to your site, promote your products, and grow your business. You'll get the following:
A week of our best-ever business-growing information
Weekly tips to help you market and sell your products
Access to our community of creative shop owners
Arianne's personal attention as you grow your business
Newsletter Sign Up
We write a new email each week to help you grow your business.
Related Posts
Let's take your online shop to the next level
The Shopify websites we design have a reputation for substantial improvements to ecommerce conversion rates and online sales. Let's talk!