Today I have a tale for you of how we increased Shopify conversion rates for a handmade shop nearly 2.5 times, and how their sales in January 2017 show an increase of 1,131.43% over that same month a year earlier! I am delighted to share this case study with you today, as it's pretty darn fascinating. Last week, I analyzed the statistics for Handcrafted HoneyBee, whose staggered rebranding launches clearly show that you really need all three of these cornerstones to success when selling products online:
A purposeful brand identity
A strategic website design
A steady source of traffic
A business in trouble
When we began working with Stacia and Rob Guzzo of Handcrafted HoneyBee, they were about to give up on their business, after many years and many frustrations. They decided to give it another try, dug deep into their brand foundations with Lucky Break Consulting, and then hired Aeolidia to make the new brand they'd imagined come to life.
I asked Stacia how they were feeling about their brand before they contacted us, and she told me,
"One of the biggest problems we had prior to our rebrand was a truly fundamental one: we were targeting the wrong audience. We had thought that our audience was the typical DIY-er–women who wanted to make their own skin care because they saw the value in participating in the process themselves. But the reality was that those women typically weren't buying kits; instead, they were scouring Pinterest for recipes and buying the raw materials themselves.

And because we had the wrong target audience in mind, our previous branding was totally wrong. We couldn't figure out why it wasn't resonating until we began to talk to the people who were buying our kits. In doing so, we found out that the majority of our kit purchases were by mothers and grandmothers for their daughters and granddaughters. And our branding just didn't grab the majority of the demographic–we were having to work too hard for the sale we were making.

We were on the verge of throwing in the towel because, quite frankly, we just weren't making enough for the business to be viable. Our sales numbers were abysmal. If we were going to survive, we knew our change was going to have to be a radical one, and we were going to have to nail it."
Aeolidia to the rescue!
The Handcrafted HoneyBee project was an enjoyable one for us, because Stacia and Rob had such a good handle on the foundations of their brand, and they viewed us as real decision-making partners in all stages of the project. Their input and feedback was the kind that makes our work better, and at the end, they had a brand and website that told their story, looked poised and professional, and seemed like great assets to their business.
"Seems like" doesn't pay the bills, though, so I was very interested to revisit their data six months after launching the site.
Testing brand identity and custom website design success separately
What made this stats analysis particularly interesting was the staggered launch, which allowed us to see how the brand identity performed separately from the custom site design. They went in these stages:
They had an existing Shopify site (data point 1)
They then took their new branding, and used it to modify a pre-made Shopify design theme (data point 2)
We launched the new custom-designed site (data point 3)
They started driving more traffic to it (data point 4)
So, let's take a look! I've removed dollar amounts, in the interests of privacy, but here is a graph of Handcrafted HoneyBee's conversion rate over these phases:
Shopify track the percentage of people who add products to the cart (the blue line), make it to checkout (the red line), and finish the purchase (the yellow line).
At each of the two launch points (and again when they drove more traffic in January) traffic, conversion rate, and sales increased greatly. This shows us that the professional branding had a strong improving effect to sales, and the custom site did, as well.
The branding made a big difference, but the power of the full custom website package showed itself to be a smart investment to make. If they had decided to stop with the brand identity design, and DIY their site, their sales numbers would be lower right now.
Here is how the site looked at three different stages: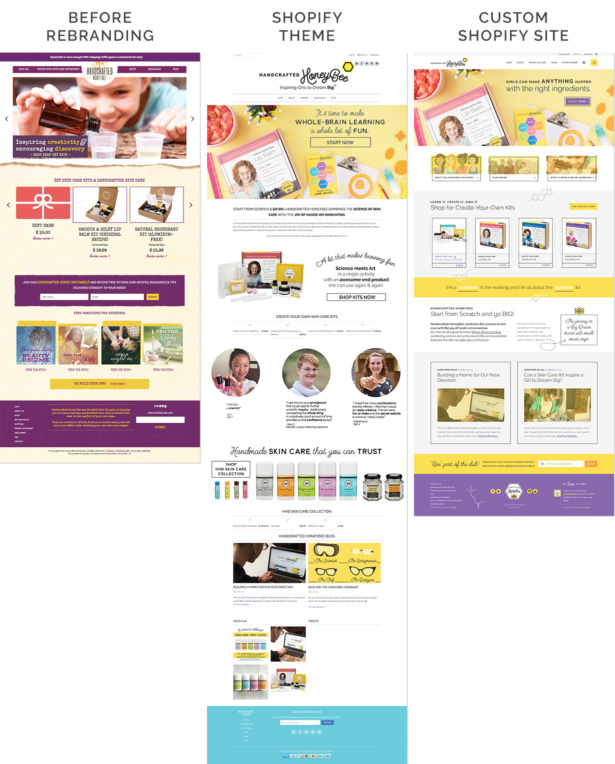 Making an investment in professional design
Hiring a team of professional designers for a full rebrand and custom Shopify design takes a significant monetary investment. It could be hard to decide to make an investment like this, especially when business finances are low! I asked Stacia how they made the decision and she said,
"Our decision to make the full investment in the rebrand + website was an easy one, because we knew that if it was done well, it would deliver an exponential ROI (and it did!). We knew we wanted a true partnership with our design team–people that really considered our long term goals. Aeolidia was that partner and beyond!

Our financial situation was extremely tight, but we were lucky enough to have a private label client that provided us with funds to pay for the entire project. It was important for us not to go into further debt with the rebrand, so it was vital to us to know that we would have the cash to pay for the project before beginning. At the same time, we knew this would be the biggest investment we had made to date with our business, so we wanted to use the money wisely. We did LOTS of research before making the final decision on the investment, and also did a lot of foundation work so we would be coming to the table with Aeolidia as prepared as possible.

In the end, the risk was absolutely worth it, but I think we were able to tip the scales a bit in our favor by being so prepared with our branding, our ideal customer, and knowing the exact goals we were seeking to accomplish."
The return on investment of this Aeolidia project
Aeolidia's success is our client's success, and we would have been devastated if Rob and Stacia's investment hadn't paid off. Everything we do for each of our clients aims them toward success, and it has been really rewarding checking in with each client six months later to see the ROI in action.
Here is what we found from before Aeolidia's work to this January, after the rebrand:
247% increase to conversion rate (our work)
371% increase to monthly visitors (Stacia's work)
This lead to a:
918% increase to income
The way these two numbers multiply each other is the key. You can learn more about that in this post: Two Changes to Skyrocket Your Online Sales
An example to understand conversion rate
Before Handcrafted HoneyBee began working with us, their conversion rate (the percentage of visitors who make a purchase) was 2.5%. That means if 1,000 people visited their site, they could expect to make 25 sales. This is just about average for an ecommerce site. Average wasn't good enough!
When they launched the new branding on the Shopify pre-made theme, their conversion rate jumped to 3.46%. That adds up to 34 sales now, with those same example 1,000 visitors. The pro-brand graphics made them more engaging and trustworthy than they had been before. But their site was still missing the strategy our experienced ecommerce team could bring.
When the custom site launched, their conversion rate jumped up to 5.18%. That is more than double what they were originally seeing, and brings them 51 sales for every 1,000 visitors. Even better, when they started using targeted ads and driving customers purposefully to their site, they saw a conversion rate of 6.37%, showing that when their custom-designed site was speaking to the right audience, it was powerful.
| Example visitors | Conversion Rate | Sales |
| --- | --- | --- |
| 1,000 | 2.5% | 25 |
| 1,000 | 3.46% | 34 |
| 1,000 | 5.18% | 51 |
| 1,000 | 6.37% | 63 |
So, from this table, you can see that improving conversion rate can help you make more money, even if you don't lift a finger to increase traffic to your site. We don't recommend that, of course! Start doubling, tripling, or ten-times-ing those visitor numbers, and you get to multiply the sales by the same amount. With a site that can convert at 6.37%, Stacia knows that if she can get 10,000 visitors to the site, she could make 630 sales. Her work to get 10,000 visitors before Aeolidia would have netted her only 250 sales. For example:
| Example visitors | Conversion Rate | Sales |
| --- | --- | --- |
| 1,000 | 6.37% | 63 |
| 5,000 | 6.37% | 318 |
| 10,000 | 6.37% | 637 |
I'll say it one more time: high traffic times a high conversion rate equals extraordinary sales! You really do need both parts working for you.
Handcrafted HoneyBee's business trajectory
Looking over their sales stats, we saw that most months show a 400-700% increase in income, with this January's great PR month showing more than an 1100% increase in (eleven times as much) income as their "before Aeolidia" monthly average. This is the type of return on investment that we aim for our clients to see, and Stacia's hard work made it happen.
And this is only the beginning. Once they are able to take the business to the next level, and aren't spread so thin trying to do all the jobs that go into running a business, the work they've invested in will continue to pay for itself and make each step more effective along the way.
"We will be Aeolidia clients for life! Their level of professionalism, their attentiveness to detail, and their overall quality of service is top notch–but even beyond that, we've truly found creative partners with our team. From Arianne's leadership to Sam's organization to Sarah's amazing talent to Jen's beautiful pictures to Shoshanna's development genius, I feel so lucky to have this team on our side. We're set up to succeed!"
–Stacia Guzzo
View this project in our portfolio »
A few years after this initial rebrand, Stacia wanted to narrow her focus to her popular collection of aluminum-free deodorants and begin using a subscription business model. She came to us to develop a new Shopify website and rebrand her deodorant collection under its new name: SmartyPits.
Check out the SmartyPits project here »
Grab the workbook to do this for your business
We are offering an inspirational and actionable workbook based on Handcrafted HoneyBee's business trajectory. There are takeaways for each section, and areas for you to fill out and dream big for your business. You can get the PDF directly from the link below:
Newsletter Sign Up
We write a new email each week to help you grow your business.
Related Posts
Let's take your online shop to the next level
The Shopify websites we design have a reputation for substantial improvements to ecommerce conversion rates and online sales. Let's talk!