Craft Fair and Trade Show Tips From Experienced Sellers
November 20, 2014 / Updated: August 30, 2022
Hey, it's holiday craft fair season! I'll be heading out to Seattle's Urban Craft Uprising this year, and I've been admiring everyone's booth displays on Instagram, after each of the big trade shows and craft fairs hits.
I thought it would be nice to get some tips from creative businesses who have done it before – so if you're thinking of attending your first show, or if you'd just like some trade show tips on upping your game, get some advice here from a variety of different businesses, about a variety of different shows.
Some of the shows mentioned in this article are:
Trade shows:
Retail shows:
Of course there are many more. I'd like to hear what shows and fairs you attend in the comments! Read on for advice from creative business owners who've attended some fairs and shows and can let us learn from their mistakes and triumphs!
Be over prepared and remember how to sell
Tips from Amber J. Favorite A.Favorite Design
I am very fortunate and have done the following shows: National Stationery Show, New York International Gift Fair (now called NY Now), Renegade Craft Fair.
Retail shows are a little different for me than trade shows. I'll be speaking to trade shows mostly, since that is fresher in my mind and personally I find them more stressful.
Preparing an application
Make sure your website is up to date with your most current products. Look through your photos and reshoot any you are not happy with before hitting send on the application. If they ask for a booth layout and you haven't built it yet, be as descriptive and detail oriented as possible. Don't be afraid to tell them who you want to be by. Location can make or break a show for you.
What to pack
This list is very lengthy… I have an ongoing Excel sheet I use to prepare for each show with several categories. Here's a brief overview:
there's the pallet list – everything to ship to show i.e.

booth
furniture
decorations
signage
office supplies
giveaways
tool box
product, etc.

the pack list – what to bring on the plane i.e.

binder with all paperwork

plan-o-grams,
certificates of fireproofing,
order confirmations,
travel reservations
receipts
tracking info, etc

extra master deck
some catalogs
business cards and order forms in case pallet doesn't make it you'll have something
map
clothes
shoes, etc.

here is a list of my show tool box:

stapler
pens
2part order forms (one for you, one for customer to take)
clipboards
catalogs
business cards
tape (packaging, carpet and double sided)
xacto
zip ties
tape measure
etg tape gun (& extra rolls of tape)
small level
scissors
fishing line
hammer
pliers
couple screwdrivers
surge protectors and extension cords
Booth setup
Pre-planning makes all the difference. I spend months designing my booth and have a plan-o-gram in Illustrator of each wall that I rearrange cards on until I'm happy. Once all furniture, lights, displays are set on the plan-o-gram we start creating the actual booth. I'm very fortunate I have a large studio and we usually set it up in the space to do a dry run. We don't typically hang all the cards but we do try out adhesives, flooring, hangers, furniture spacing, pretty much anything we can to make sure it's going to work how we imagine. Once our dry run is done and we're feeling mostly confident we start loading the pallet. Besides the plan-o-gram and dry run I would suggest set up early. I know travel is not cheap but peace of mind and a good night's sleep (or a comfy bed to lay awake and obsess in) before the show can make all the difference. If your pallet is set to arrive 3 days before, try to get there then. Things often take a little longer than you think. Dress comfortably for set up, it is often hot in the summer and cooler in the winter before show time, the dock doors are wide open so dress accordingly. Bring snacks and water for set up too, food can be a challenge to find especially if you're working late to get your booth done.
How to sell
My first trade show was NSS in 2010. I am a huge researcher and honestly had prepared for 24 months before my first show. I had a booth I was proud of, I had created products I loved, I reserved a space near businesses I admired and aspired to be like, I had helpers I vetted on all my goods and processes, I had beautiful catalogs, order forms, business cards and super cute totes; I thought I was over prepared. Then the first customer came in and I froze. All that preparation and it never crossed my mind how to start a conversation or what my spiel would be. It was terrible. I smiled and said hi. When they left I felt like an idiot but was determined to not let that happen again. After that, I was a pro. Greeted everyone that came in, told them a very brief, who I am, what I do and what I sell. Let my failure be a lesson to anyone wanting to sell… Don't get so wrapped up in the logistics you forget what to say.
How to follow up
Try to get a business card or contact information from anyone that takes your card or catalog. Afterward I always send a little note whether they ordered or not. And I add them to our email list. We've had several customers that saw us at a show but didn't actually order until months later.
Any surprises that you wish you'd known about?
The giant Starbucks line at the Javits Center! And read about the shuttle schedules. Some run on set up days too… I spent money on cabs that weren't necessary the first show.
---
Don't skimp on your catalog
Tips from Erin Hung of BerinMade
We just did our first trade show in the UK and the one tip I have is: Don't skimp on your catalogue!
We put a lot of effort into our styled shoots, making sure our look book is stunning, and that our product shots show off our work in the best angle. We also printed the catalogues in a saddle bound booklet (as opposed to a line sheet which a lot of other vendors used). The reason for this is that a lot of shops (especially the big department stores and national stores) do not buy at the show, and they see a LOT of stores in a few days, so the catalogue is the only way for them to really remember your work—so make sure it represents the brand in the best way possible.
---
Make everything visible and don't be a pest
Tips from Wendy Bryan Lazar of I Heart Guts
I'd break up my advice into two areas, since a wholesale trade show is a very different beast from a retail sales show.
Retail advice
(Renegade, Comic Con, etc.)
If they can't see it, they can't buy it — make sure all your goodies are visible and attractively displayed around eye-level if possible. Use crates, props and display stands, hang stuff up so it can be seen. Also, make sure all your stuff is clearly priced. Sometimes people fall in love with stuff and MUST HAVE IT, but that's rare — most of the time people shop by price.
Even if you are bored in your booth — don't look bored! Find a way to have fun and enjoy interacting with your customers. Think of how you feel when you walk into a shop with a sullen employee with her nose in her phone. Everyone is interesting and interesting to talk to. You are the face of your brand and a smile goes a long way.
Trade show advice
(NY Now, Stationery, Toy Fair, etc.)
Make your booth look beautiful, but also easy to pack up. Getting your stuff in and out of a convention hall costs a fortune. So when you design your gorgeous and amazing display, also think about how it will fit in your car, or how it will load onto a cart or how it will pack down to be shipped.
When it comes to follow-up and sales, trade shows are a lot like dating. If they like you, they will call you. Don't be a pest. I'm not saying to not follow up, but your stuff just might not be right for their store. Or maybe I'm just lazy.
P.S. Megan Auman has posted some really helpful trade show tip videos.
---
Set your booth up like a small shop
Tips from Laurie Johnston Two Trick Pony
I've exhibited at the National Stationery Show eight times with three different companies and also attended as a buyer. There is so much to know, so I think it's great you are gathering tips for newbies. Here are my thoughts:
What to pack:
Start your packing checklist as early as possible so you have time to add items as you think of them. Mentally go through all the steps of your set up and sales process so you can write down all the supplies and tools you may need.
Don't be afraid to over pack! Anything you think you might need, bring it. Even if you don't end up using a flat head screw driver, your neighbor might and will love you for coming to the rescue.
In addition to your booth supplies, be sure you are well stocked with healthy snacks and plenty of water before the start of each day, especially if you are on your own. Selling all day is exhausting so you want to be as alert and focused as possible.
Booth set up
If you can, set up a mock booth at home or in your studio. The set up will go quicker if it's not the first time you are doing it. You may discover that something you planned doesn't actually look how you expected and you can make adjustments beforehand.
Keep in mind that the venue will likely have certain requirements and restrictions regarding what materials you can use (non-flammable, etc.) and what tasks need to be performed by professionals (electricity, etc.). So be sure to read your contract thoroughly and ask questions if you are unclear.
Try to think of your booth as a small shop, you want it to be inviting yet spacious. Don't place furniture or other objects that will impede buyers from easily entering and exiting your booth. No one wants to enter a booth if they feel they can't get out quickly if they want. And like a shop, signage is key! Yes, you want buyers to engage with you, but you also want them to be able to get the info they need if you are with another customer or they just don't feel like chatting.
---
Get your product in customers' faces, and tell your story
Tips from Lisa DeMio Red Staggerwing
I have been doing shows since I started my business in 2009. I started out with a small local fair and have built up to larger, exhibition hall types and some national shows. Here are my tips, in no particular order:
What to bring
If it's an outdoor show and you are bringing a tent, make sure you have weights for your tent! Minimum of 25 pounds per leg but 40 is better. Many shows require this now but not all. Protect yourself and your neighbors from accidents. All it takes is one gust of wind. Weights can be found on Amazon or other retailers that sell canopies, but you can make your own with PVC and cement, bags and gravel/sand, or purchase kettlebells and use ratcheting straps to attach them to the tent frame. The important thing is that there is tension on the weight. Very hard to secure with ropes since you can't really get them tight enough. Rubber bungees work well, too.
For all shows, have a 'kit' – doesn't matter what you carry it in but I use a really cute vintage cosmetic case. Another friend uses a vintage tool box . I have sunscreen, hand wipes, extra tags, business cards, a variety of sizes of zip ties, velcro straps, pliers, screwdriver, tape (both duct and masking), pens, markers, snacks and a first aid kit. I try to keep some feminine supplies with me as well.
Booth display
Regardless of where you are displaying, the display itself is almost as important as your products! I have seen some really cool products that are displayed poorly and are easy to walk right past. If you have room, set up your display at home to get an idea of how it will work. Mark out your booth size so you know it will all fit and then make sure it's shop-able! Boost tables to counter height, especially if your items are small. You can use bed risers for that. You want your product literally in people's faces!
There are many boards on Pinterest with craft show display ideas – try not to literally copy other vendors but you can find some great inspiration there. Simple and clean is best if your product is large or colorful. If it's small or simple, try to add some visual interest to draw people into your booth. With a large market, like Renegade Craft Fair or American Craft Council, there are literally hundreds of vendors, so if you don't draw people in, they are likely to walk right by. Also, visit the show website if there is one and see how vendors are displaying their products. Again, it's not a good idea to blatantly copy another display but you can find inspiration. Generic display pieces like gridwall or hanging panels are certainly not proprietary so don't be afraid to use them or any other commercially available pieces.
How to sell
Remember that you are representing your brand. People make quick judgements at shows and this is a place where first impressions really count, so make sure you are welcoming and approachable. If you are selling fashion items, look fashionable! If possible, be wearing something you have made. Nothing will make shoppers turn away like a poorly presented vendor slouching at the back of their booth. Be honest with yourself and if you are not great at the in person sales piece, bring someone who is. Some really talented artists are terrible at selling their own art work! And you have to sell – there will be markets where it seems like all you have to do is stand there and take money, but it's far more common to have to actively sell your goods.
Get your introductory speech down: 'Hello. Everything is handmade by me, so just let me know if you have any questions.' I say that a million times every show. 🙂 Try to keep them engaged without being pushy and if possible get the products into their hands. People are much more likely to buy something they have held and examined. Encourage them to touch/smell/try on. Be observant of facial expressions and other non-verbal cues to make sure your customer isn't becoming uncomfortable. It takes practice but you will be able to tell eventually.
And don't forget to smile! Even if sales are slow, smile and act like you are enjoying yourself! Bad energy will keep people out of your booth. Be yourself, but have the story ready – handmade is generally more expensive, so you need to show people why it's worth it to buy your item. I love what I do and make sure that people know that! When they compliment the fabric choices, I tell them that's my favorite part – choosing the colors. Just try to be ready with your story – do you have a cool studio? Do you have something unique about how you make your products or source your supplies? The story is a large piece of what makes handmade appealing to people.
Encourage visitors who don't buy right away to take a card and take a picture of the product they were looking at – I know some artists are protective and don't like photos taken, but there are great photos on my website if someone wanted to copy my work, so I assume the best and encourage potential customers to take a photo so they remember what they were looking at. If you do run out of cards, tape the last one somewhere convenient and encourage customers to take a photo of your card to keep your information.
Preparing for surprises
As for surprises, there will always be some. If the market is outdoors on grass, the ground could be uneven. Bring shims or something else to level your display. Sidewalls are a good idea and are necessary for overnight outdoor shows to protect your display and/or products. If it's indoor in a large convention hall type venue, find out what is being supplied in your vendor fee. Most provide pipe and drape but not all. My second show I didn't look and so didn't know they didn't provide booth flooring. All I had was a small little area rug that I use for my outdoor shows. The next show, I made sure to look and found an inexpensive solution with vinyl flooring from home depot. Lighting is key for indoor shows so I recommend purchasing electricity if available, but you can also use a portable battery if necessary. The easiest solution is to rent a crossbar or purchase one – this goes across the top of the pipe at whatever spot makes sense (usually the front, but jewelers tend to need more than one) and attach track lighting (also from Home Depot/Lowes) with zip ties or velcro strips. Again, very easy – see examples of this online. If possible I try to visit the show or talk to a vendor who has done it before to get the scoop.
---
Prepare icebreakers, shop at home
Tips from Cathy Pascual of Catshy Crafts
It was one of my business goals early on to be in a craft fair, but it seemed so daunting. From the amount of preparation and set-up to the hours interacting with people to the fears of not selling anything, I was pretty overwhelmed. The first one is always the hardest. I prepared for months for my first one. To this day, each one is still stressful for me, but I believe it is worth the time and effort. The customer feedback and interaction (which is probably what I feared most as a shy introvert) is probably what is the most rewarding. I have never had amazing sales at craft fairs, but I still see the value in them. (And I guess I still have hope that I will have amazing sales one day!)
Here are a couple of the posts I've written about my experiences with craft fairs. My last one was from the perspective of a shy crafter:
A Shy Crafter's Guide: Selling at Craft Fair
One of my favorite tips from my article is this one: Prepare icebreakers or questions you can ask a visitor to your booth. I don't know about you, but small talk is not one of my strengths. Taking a few minutes to think about some questions or icebreakers for your booth visitors could help alleviate some of that small talk anxiety. After all, she is taking time to visit your booth, make her feel welcome with some friendly conversation. For example, compliment her on something she is wearing OR ask her how she's likes the craft fair so far. If she is looking at a particular item in your booth, tell her something interesting about the piece or what inspired you. But if your mind goes blank or you get a little tongue-tied, a hello and smile never hurts. And who knows, maybe she is shy too! And here's a link to my very first craft show experience. Read more…

10 Tips on Surviving Your First Craft Show
Tip #3: Shop at home. Before you head out to the store for items for your display, take a look at what you already have at your home. Chances are you can find many things to use in your crafty display.
For example, do you use props when you photograph your items? I have a wooden tray that I love to use for my product photography. It is carved. It has a richly stained patina. It has scratches and is well-worn from use. If you read this blog, you may remember when I picked it up from one of my favorite thrift shops last year. It continues to be my go-to photography prop. Not only is this item doing double duty, it will tie back to your online shop. It's nice to have continuity between your Etsy shop and your craft show presence. Read more…
---
Take your lighting very seriously
Tip from Eva Jorgensen of Sycamore Street Press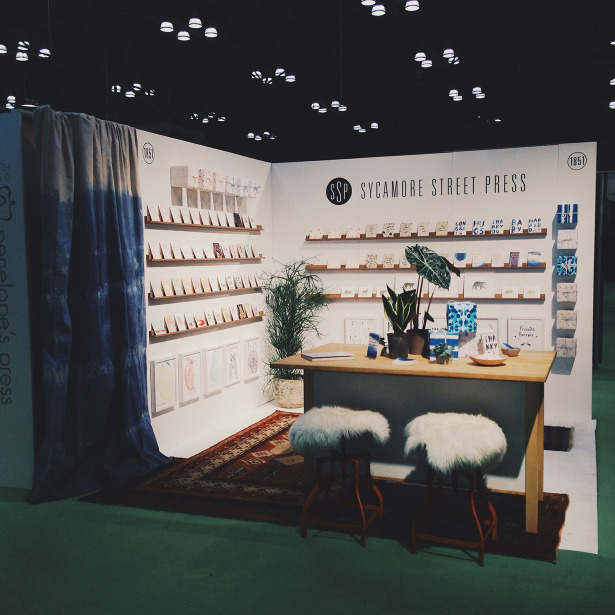 My number 1 tip for the National Stationery Show is to not skimp on your lighting! I've written several blog detailed posts with NSS tips, including this one:
Top 5 Tips For Your National Stationery Show Booth
If you plan on exhibiting again in New York — either at the NSS or another NY based trade show like NYNow, the most economical thing is to store your booth with a local freight and storage company. (Although, our first year doing the show, we just packed everything into our car and drove it back and forth. Always an option if you live close enough.) Pack your entire booth (walls, displays, product, etc…) into a crate or onto a palette, and get the freight company to ship it to the Javits for you. When the show is over, they will then pick it up and store it until the next show comes around. It's definitely cheaper to go this route than to ship it back and forth from New York to wherever you live every single time. Read more…
P.S. Sycamore Street Press have put together an online course for people who want to start a stationery business (or who could use help with a struggling one): Stationery Business 101.
Next, let's talk booth design
I'd like to do a followup post that shows off some beautiful booth design and shares some tips about that! If you have seen some amazing booths at fairs, please let me know about them by posting the business owner's URL here in our comments. I'll get in touch with them and see if they'd like to share some photos and tips with us. If you have some booth design and setup tips for our readers, email me to let me know.
P.S. what events have you attended for your business, and how did they go? What did you learn?
Ultimate trade show packing list
I have a bonus for you today! 14 stationery companies shared their own trade show packing lists with us, and we've compiled it into a master list. You can also peek and see each business' exhaustive list, with things like how many catalogs they bring, etc. The one thing everyone agreed on was to bring at least four different kinds of tape! Want this? Sign up and nab it below:
Newsletter Sign Up
We write a new email each week to help you grow your business.
Related Posts
Newsletter Sign Up
We write a new email each week to help you grow your business.
Let's take your online shop to the next level
The Shopify websites we design have a reputation for substantial improvements to ecommerce conversion rates and online sales. Let's talk!