Katy Sensenig Schilthuis, who runs Fresh Out of Ink, shares a behind-the-scenes look at how to start a new stationery shop. Katy came to us as she was beginning to refresh her line of goods, ready for a professional and fun logo that would better represent her brand. She told us:
I want those who see my new branding to feel joy – my ultimate goal in creating my work is to make people smile and laugh, and have fun. It's supposed to brighten up someone's day – and brighten up their walls/home. I want my logo to "pop" and be memorably fun.
Katy began her stationery business as Sushi & Queso (the names of her cats) and began developing her style. Her product line was based on existing trends, which she soon discovered wouldn't lead to lasting success. When she started considering going to trade shows, she saw the need to differentiate and bring her unique voice to the marketplace. She smartly pivoted and made plans to start over from a stronger foundation, with a real focus on making something that hadn't been seen before. Read on to learn about how to brand a new stationery shop and how having a professional logo and brand identity will help with everything else.
What made you decide to transform your business?
My original business, Sushi & Queso Designs, didn't have a clear voice or unique sense of style. Everything was cute, but was "typical" and "ordinary." It was time to move on to something more specific, more unique, and more like me!
What changes have you made to your business over the last few months?
Everything – from the ground up. A complete facelift! New name, new branding, & brand spankin' new product.
What surprised you during the branding work we did with you?
The challenge behind finding a business name! I had no idea I'd be so attached to, or struck by, names, but since Fresh Out of Ink is "my baby," I guess it really makes sense that I cared so passionately! The process felt endless when I went at it alone, but adding Aeolidia into the mix made it so easy and fun. We found the perfect name in no time!
Did you learn anything new about your business from our questions or during our work?
Yes – I really was able to dive into exactly who my target customer was. What a huge help this has been!
What was it like working with a designer, as a graphic designer yourself? How did you feel about the process and results, versus tackling the logo design on your own?
I, admittedly, was wary at first about hiring a graphic designer – since I design so much on my own. But, being so attached to my business, I knew my design would be a bit biased toward my specific tastes, and I wanted a fresh set of eyes on the new product – so we could be sure we captured the essence of the brand and the target customer, without just doing what I thought "looked pretty."

The process was clean, clear, and fabulous! Christine was so creative and fun to work with – and saw things in my brand like color and patterns that I hadn't seen myself. Everything happened quickly and efficiently. Organization through Basecamp was key – the logo definitely would not have been as organized and well-thought-out, had I designed it myself.
How did you announce the transition to your current customers and on social media? What kind of reaction have you been getting?
I started hinting at upcoming changes a few months in advance, and built up the hype throughout the creative process, with Instagram and Facebook photos that hinted at new colors, products, the process I was going through, etc. I officially announced the rebranding/change to a new company about a month in advance – and announced the date my shop would officially open online. Then, I had fun counting down with all of my followers until the big reveal!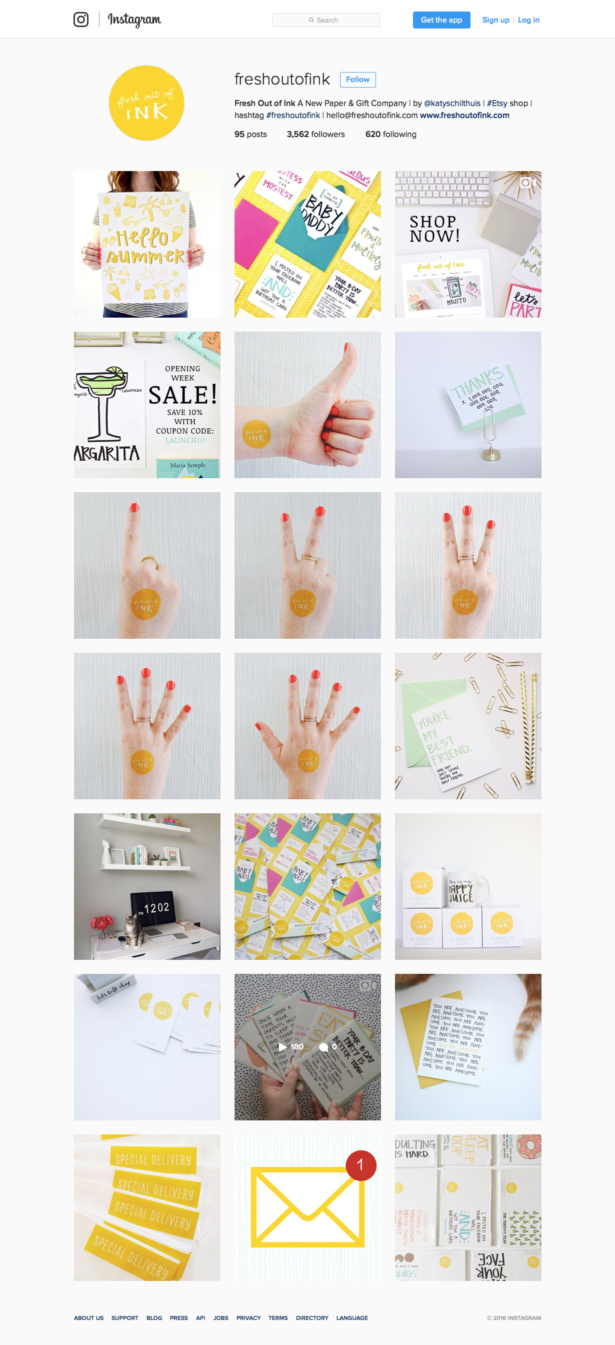 This must have been a lot of work! What has been going on on your end behind the scenes to put your new look together?
Yes, totally re-doing/re-shaping a business can be an endless process! There was so much going on on my end: sketching and designing new product, building the new website, printing and manufacturing all of my goods, building new wholesale relationships, planning a local launch event, and SO much more. Thank God for Basecamp – I organized ALL of my to-do's this way, after I was introduced to the software by Aeolidia – and couldn't have done it all without my very organized set of tasks and deadlines.
What do you feel is achievable now as Fresh Out of Ink that didn't feel so achievable as Sushi & Queso?
I now have a voice that is completely my own. It's fresh, fun, and unique – and I feel like I can offer the industry something they haven't necessarily seen before. People say reading my greeting cards is just like talking to a best friend: casual and laugh-out-loud funny – and I'm so excited to be able to be the one providing the laughter.
Thanks so much, Katy – we're excited for you, too!
See this project in our portfolio.
Visit Fresh Out of Ink on Instagram.
Do you have questions about how to start a new stationery business?
If you are starting a new business and could use some expert advice, let us know in the comments below, or if you are feeling the need to rebrand your business let's chat! We would love to help.
Newsletter Sign Up
We write a new email each week to help you grow your business.
Related Posts
Let's take your online shop to the next level
The Shopify websites we design have a reputation for substantial improvements to ecommerce conversion rates and online sales. Let's talk!