Have you been thinking about expanding a wholesale business into online retail? Although seemingly daunting, this process is actually easier than you might assume. After all, you've already done most of the important work: you have a brand your audience loves, products that are proven to sell, and systems in place to fulfill customers' orders.
We recently completed a redesign of the Hester & Cook website to help them expand their e-commerce sales. Known within the gift industry for its trendsetting paper placemat pads and table runners, Hester & Cook is a favorite among retailers looking to cater to customers who love setting beautiful tables without any fuss.
Investing in your retail business to help it grow
Although Angie Hester Cook and her husband Robbie Cook launched their company 11 years ago, the Hester & Cook retail site had been running for eight of those years with pretty average results. Hester & Cook Art and Marketing Director Courtney Cochran had recently turned her attention to growing this part of the business, and she quickly encountered what she called "a barrel of limitations." The website was not mobile-friendly, which made it harder for customers who shop on tablets or phones to make purchases. On the back end, adding new products to their growing line was becoming challenging, as was collecting important data, such as Google Analytics and visitor conversion rates.
Website design before Aeolidia: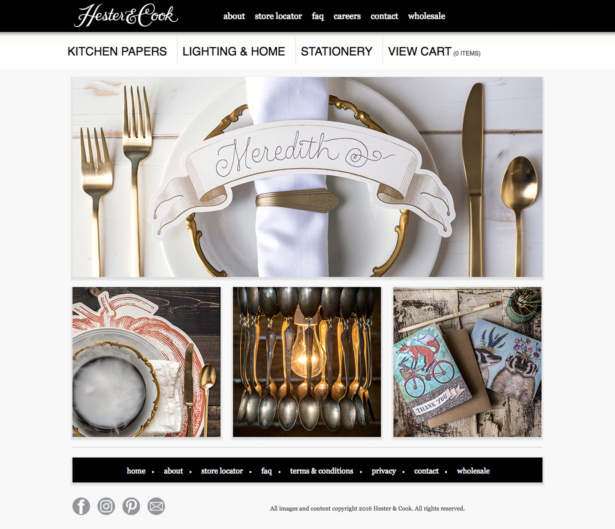 We kick off each project by discussing a client's goals, and it was clear that Courtney was aiming high. This was great, because it meant every aspect of the new site would need to be at 100 percent upon launch. We always give projects 100 percent— and we love it when clients do, too.
To aim for the team's high conversion rate goals, Arianne explained it goes far beyond design to also encompass photography, product descriptions, policies and shipping options provided by the client.
"Your marketing strategy will have to be refined to only be reaching out to your target customers," Arianne said of how brands should expect to contribute to the process. "Your team would need to be available to provide the best possible content for the website during the preparation stage of your project."
Website design after Aeolidia:
Tapping into your brand's strengths & potential
Our overarching goal that set the direction for this redesign was to make Hester & Cook's online retail sales strong enough to be on par with their wholesale accounts. After all, the brand had huge potential—our job was to make their neglected e-commerce site live up to it, both in terms of design and functionality.
Do-Hee got to work on designing an updated and beautifully branded experience that would not only appeal to Hester & Cook's current customer base, but also attract a new online clientele. Because the brand already had such a strong following, it was important that the online experience match the quality of their curated, flagship brick-and-mortar store.
"Visually, I took inspiration from Hester & Cook's new logo, beautiful products, and timeless color palette to create a classic, but contemporary look and feel," Do-Hee said. "Details such as the curved page corners, editorial typefaces, and stationery-inspired tables, add dashes of personality to this clean design."
A completely updated and polished custom Shopify Plus ecommerce site showcases Hester & Cook's range of products beautifully, which helps to further instill customer confidence in the brand as the go-to for high-quality kitchen and home goods.
But the visual transformation is just the beginning. With a redesigned navigation, visitors can now quickly understand what Hester & Cook has to offer. That helps improve shopability and, of course, the retail shop's conversation rate.
Does your wholesale business have the potential to drive sales online? Contact us to discuss how an online makeover can help your brand grow!
Newsletter Sign Up
We write a new email each week to help you grow your business.
Related Posts
Let's take your online shop to the next level
The Shopify websites we design have a reputation for substantial improvements to ecommerce conversion rates and online sales. Let's talk!