Beloved children's clothing brand Well Dressed Wolf already had so much going for it when founders Sarah and Shannon came to us for a logo and web design refresh. Their timeless, yet original designs are adored by loyal moms and happy children. The growth and success of their brand had recently allowed them to expand their offerings through a family of sub-brands, Omi Jo and Wildling.
Given that Sarah and Shannon hand-sketch, sample, and fit every piece in their collections, it was no surprise that they'd also created a strong visual identity for them.
"Marketing is really something I love," Sarah told us. "I design children's clothing, but I have also done all of the graphic design and marketing and photography for our business up to this point."
All together now: bringing sub-brands together through design
We were excited to help take the Well Dressed Wolf family to the next level by bringing their established aesthetic together in a more streamlined children's clothing brand logo and brand identity that echoed their beautiful style.
Christine began by brushing up their existing logos and optimizing them for the web by vectorizing the previous artwork, which gave them all a crisper, cleaner look. Next, she focused on establishing visual unity by creating a color palette and selecting typography that would work well—both within each sub-brand and across the entire family.
A couple of new design elements helped complement and enhance the brand's existing logos. A custom illustration of a hand-in-hand child and a wolf with stars and a moon floating above them served as a whimsical foundation for a new brand mark and textures.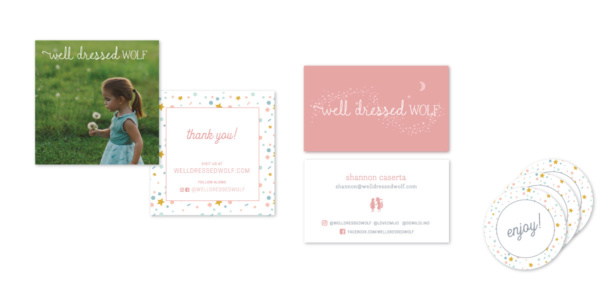 A new set of websites for an enduring brand
With a refreshed brand guide in place, Christine designed an original, easy-to-use look for the new Well Dressed Wolf Shopify website that maintained all the adorable charm of the brand's aesthetic.
"The website expands on the sweet branding we've established, while telling the story of Well Dressed Wolf, showcasing your wonderful clothes, and inspiring your customers—new and trusted alike—to make a purchase," she said. "Accented with a few illustrative details along with classic and feminine typography, the overall look is professional but warm. A place where the Well Dressed Wolf community will feel right at home."
The site was designed to be equally beautiful on the inside, with more streamlined functionality to improve customers' shopping experiences. Using the template we created for the main site, Sarah and Shannon were able to customize the web design for the Omi Jo and Wildling brands—all while maintaining a cohesive feel.
View more kids' shops in our portfolio »
Visit the new Well Dressed Wolf website »
Do you think your brand could benefit from more visual unity and a streamlined customer experience? Contact us to learn about getting started!
Could You Use Actionable Tips to Improve Your Sales?
Our weekly newsletter will give you the tools and info to drive traffic to your site, promote your products, and grow your business. You'll get the following:
A week of our best-ever business-growing information
Weekly tips to help you market and sell your products
Access to our community of creative shop owners
Arianne's personal attention as you grow your business
Newsletter Sign Up
We write a new email each week to help you grow your business.
Related Posts
Let's take your online shop to the next level
The Shopify websites we design have a reputation for substantial improvements to ecommerce conversion rates and online sales. Let's talk!