When Adoren Studio owner and artist Tiffany Emery came to us, she was ready to take her creative business to the next level. And level up, she did, as this branding case study will show!
For Tiffany's brand identity and custom Shopify website project, we enlisted a full team, including our marketing consultant, copywriter, product photographer, and web analyst. Our photographer Jen created custom mockup photos that make it easy for Tiffany to drop her different artwork in, which has helped Tiffany increase sales of her art prints.
Tiffany was interviewed by the folks at Clutch, a web design agency directory, about what it was like to work with us on this project. Her interview on Clutch (which we've shared below) is an honest account of what Tiffany's experience was like — we have zero control over what was posted to Clutch.
If you're thinking about working with us this year, this will help you understand what to expect:
BACKGROUND
Introduce your business and what you do there.
I'm the owner of Adoren Studio, a watercolor children's and nursery art business.
OPPORTUNITY / CHALLENGE
What challenge were you trying to address with Aeolidia?
We were previously an Etsy-based company without a website. We needed our own site with e-commerce capabilities and a Shopify platform. We also needed some help with re-branding, including a new logo design and slogan.

I sell a lot of different products, so the website needed to be designed in a way that helped clarify and distinguish product types offered on the site.
SOLUTION
What was the scope of their involvement?
Aeolidia walked us through "dream customer exercises" to hone in on our target audience. They helped us build the brand from there. I had a general concept of what I wanted, and Aeolidia worked with me to develop a new logo and slogan. It was a collaborative process to figure out exactly what we needed.

Their team designed the site in a way that brought clarity to the shopping experience, so buyers could quickly find what they're looking for and distinguish the differences between products and associated timelines.
What is the team composition?
We worked with different contacts at different phases. During the branding phase, Caroline, their business consultant, walked me through the "dream customer exercises" while Natalia worked with me on copywriting. Jess, the assigned graphic designer, worked on the overall brand image/logo before handing off web design to Do-Hee who designed a beautiful website. Then, Shoshanna actually developed the website on the Shopify platform. It was a really seamless hand-off thru each stage of the process, each team member building from the work of others, and each contributor an expert in their own field. They really are a dream team.
How did you come to work with Aeolidia?
I had followed them through a number of Facebook pages and creative websites where I had seen their name. I also had a few mentors in the industry who had worked with them, and I just thought their work was really great. I knew when I was ready to build my site, I would want to reach out to them.
How much have you invested with them?
We spent about $25,000 in total.
What is the status of this engagement?
We started working together in April 2017 and wrapped up our work in October 2017. The first quarter involved branding, while the second quarter involved the web development phase.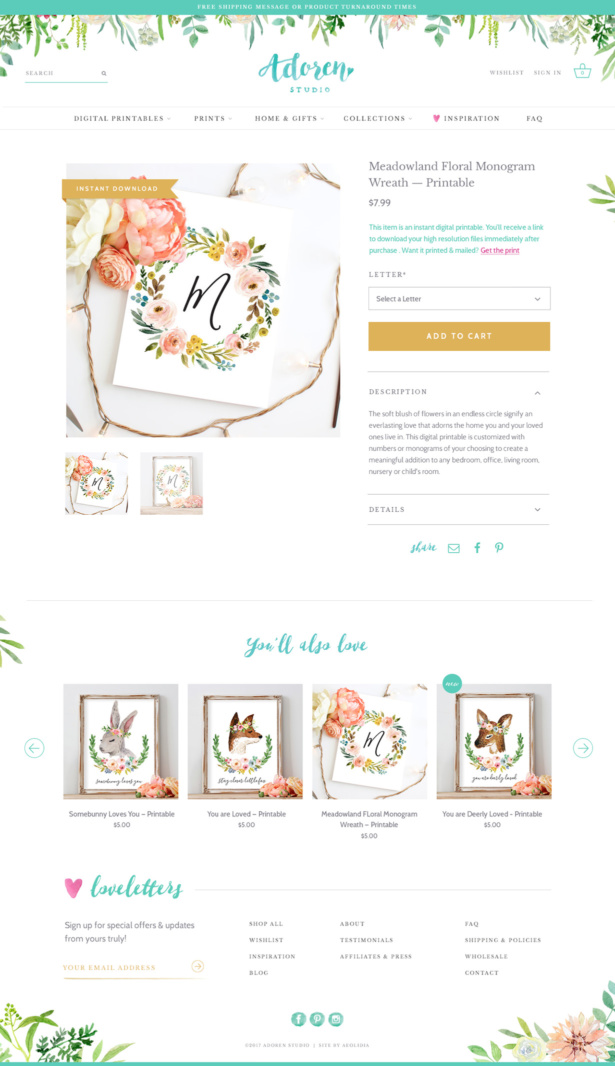 RESULTS & FEEDBACK
What evidence can you share that demonstrates the impact of the engagement?
We've only been live for a few months, so statistics aren't quite relevant yet. There's also a bit of a learning curve for us in terms of learning how to increase traffic to our site. However, we're already seeing promising results from the Shopify platform. In general, it's opened up all sorts of new sales channels (i.e., Amazon, Facebook, and Pinterest). We're laying the framework of those new sales channels, but, without question, it's going to increase our revenues significantly.
How did Aeolidia perform from a project management standpoint?
They've got project management down to a science. They use Basecamp to manage the progression of projects. They know exactly what they're doing, exactly how to do it, and when everything needs to happen to achieve it. They're able to launch when they say you're going to launch because they hit every mark along the way.
What did you find most impressive about them?
They're great in the creative product space. There's a lot of developers who can build websites, but not all are as creative as Aeolidia. They're able to take a small Etsy shop with aspirations and put it in that next category of being a real company and brand.

Their team's creative background is beneficial to businesses like mine. My graphic designer, for example, was also a hand letterer. They have a great team of designers to pull from.
Are there any areas they could improve?
No, I don't have any negative feedback. They're very professional and easy to work with.
Do you have any advice for potential customers?
You just need to reach out. They're good at what they do, but both parties have to see if they're a good fit for each other. They know what they're capable of doing for your business.
OVERALL SCORE
It was a great start to finish transformation of our brand that exceeded all of my expectations.
Ready to transform your creative business?
If you're ready to level up your own creative business, get in touch with us! As official Shopify Experts, we have a history of exceeding expectations. Request our rate sheet.
Newsletter Sign Up
We write a new email each week to help you grow your business.
Related Posts
Let's take your online shop to the next level
The Shopify websites we design have a reputation for substantial improvements to ecommerce conversion rates and online sales. Let's talk!