Client's Project
Adoren Studio began as a labor of love, birthed from simple things: the love of a child, the beauty and simplicity of watercolor painting, and the desire for our walls to bring wonder into our lives and the lives of those we love. Tiffany Emery, owner, told us,
The new site would be an improvement in several ways:

It would strongly define and legitimize my brand and aesthetic visually. I want my customers to be overwhelmed with "pretties" when they hit my site so that I am instantly connecting with them. I know when I visit a site that is beautiful and on target it really makes me trust the brand and want to shop on it and and I want that for my customers
It would allow me to push my ad dollars directly into my pocket and block out my competition
Ability to build a newsletter
Ability to send abandoned cart messages
A place to send wholesale prospects that reflects professionally on my business
Ability to showcase collections to show how collections tie together and help customers find the designs that coordinate together.

I will know I have achieved what I have planned for if I have a professional brand and website with clear messaging to the degree that I feel prepared for tradeshows and wholesale business.
Our Solutions
Jess on our team kicked this project off with an updated logo design, Do-Hee designed a beautiful boho Shopify site, and Shoshanna brought the site to life with features and functionality to help Tiffany meet her business goals.
Tiffany had the support of a full team, including our marketing consultant, copywriter, product photographer, and web analyst. Jen, our photographer, created custom art print mockup photos that allowed Tiffany to easily drop in her artwork using Photoshop. After testing her previous product photography against Jen's mockups, she saw a full 1% increase to the conversion rate of her bestselling animal set.
What Our Client Had to Say
Working with Aeolidia is transformational for your business. If you are serious about leveling up your business there's not a better firm in the product-based space to take you there. I was intimidated to reach out at first. This is the largest investment to date that I have made for my business, but taking the action to bring Aeolidia into my business as a partner brought so much value, insight and of course an extremely powerful tool to grow my business for years to come.
Identity
Logo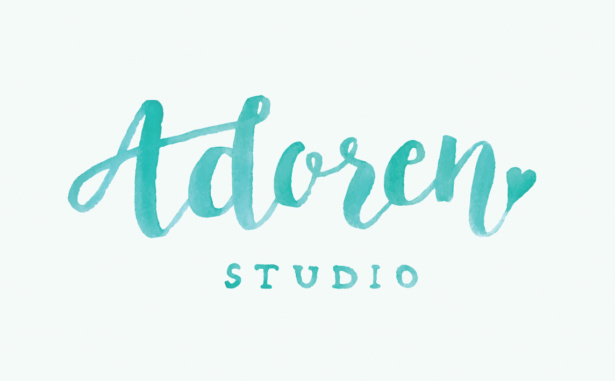 Branding Solutions
Jess, Tiffany's designer, shared,
For your logo I was inspired to create a custom script logo that pays homage to your original branding. The hand-lettered logo I created for you utilizes the thick brush style that you often see in your products, helping to tie everything together. The addition of the heart is a nod to your past logo and also relates to your mission of "loving deeply, living simply and making life more beautiful."

Beneath the script I used a painterly serif font for "studio". The serif helps to ground the design and also adds some sophistication. Your work, while whimsical and fun, has an elegance that I wanted to showcase in your logo.

This updated logo is a natural evolution for your brand, it pays homage to your past, but will grow with you as you continue to develop your business.
Logo Alternates
Quick Brand Guide
Website
Home Page
Website Solutions
Do-Hee, Tiffany's web designer, explained,
Visually speaking, I clearly was inspired by the beautiful branding work you & Jess have done :) and have adapted it to create a beautiful, immersive shopping experience. I've brought in plenty of floral accents for a warm and boho-chic look and feel, while balancing that with white space as to keep it fresh and not overpower your products themselves.

It is very important to us that we not only create a design that accommodates your current needs but also one that is also flexible and scalable for the future.

Overall, the homepage has a vibrant look and feel that and introduces your customers to your products and the distinct Adoren brand — an experience I think both your existing and new customers will love!
Collections Page
Product Page
About Page
Photography
Custom Mock Up
Custom Mock Up
Stand Tall Print
Irish Blessing Print
Be Brave Print
Hero Image
Hero Image
Print
Insert card
Business cards
Copywriting
About
Our Mission
We believe in loving deeply, living simply and making life more beautiful.  We treasure sentiment over price tags and believe family is the heart of life. Adoren Studio began as a labor of love, birthed from simple things: the love of a child, the beauty and simplicity of watercolor painting, and the desire for our walls to bring wonder into our lives and the lives of those we love. Love lives here, and it is our hope it will live in the homes that you adorn with the people whom you adore.
Our Birth Story
Hi, I'm Tiffany. Thank you so much for stopping by! Our little studio was born from the simplest of things with the smallest of intentions. Like many of you, as a new mom, I wanted to decorate my baby's nursery to beautifully reflect all my hopes, dreams and love for her. My very first piece, "You Are So Loved", illustrates the heart of my business: to promote love and encouragement through watercolor and design.
That first collection of nursery artwork became a little online shop with a hope and a prayer for extra childcare funds. God is good, and his plan exceeded all our dreams and expectations by launching Adoren Studio into a full fledged business.
Nursery artwork is still very much at the core of what we do, and today I still design watercolor artwork with the same goals in mind for your little ones as I had for my own.
Our Products

With our roots planted firmly in the world of baby and child, Adoren Studio is growing and expanding into the broader world of watercolor art for the home, weddings, special events and holidays. We believe love is simple, but we know life can be complicated. We happily give customers the option of purchasing highly affordable digital art to print on their own budget and also provide giclee quality art prints on fine art watercolor paper.
Many of our handcrafted pieces are designed to be personalized so that each piece lives out your message of love for your family and home.
Love lives here. And it  is our hope that love lives wherever you are.
(heart icon)
Handwritten Signature
Product Descriptions
Custom Watercolor Wreath with Watercolor Lettered Monogram 
The soft blush of flowers in an endless circle signify an everlasting love that adorns the home you and your loved ones live in. This digital print is customized with the colors, floral patterns, numbers or monograms of your choosing to create a meaningful addition to any bedroom, office, living room, nursery or child's room.
Build-Your-Own Watercolor Wash Quote
Sometimes a treasured sentiment can only be expressed in your own words. Combine the beauty of your message with the simplicity of a watercolor wash with this custom quote digital art print. Choose the words, watercolor wash background color, font and font color options:
Build-Your-Own Watercolor Lettered Quote
Create a piece that will speak love and beauty in your own words. Choose from any of the following watercolor designs that best express your heartfelt message. Customize the quote, the font, and the watercolor design that is applied to the text.
Encouraging Animal
Furry, feathered, and four-legged friends encourage your little ones to dream big and believe in themselves in this collection of watercolor animals. Choose from easy-to-order packs of 4, 6, 8 and 12 to transform any nursery or children's room into a wild adventure.
Monogrammed Floral Wreath
Adorned with the beauty and simplicity of watercolor, this floral wreath with custom monogram signifies the loving embrace at the heart of life. The initial is shown in loverly digital watercolor gold, a digital effect that mimics gold foil, for an extra bit of glimmer in a nursery, child's room, dorm or office.
Results
I am thrilled with the website and the many sales channels and potential revenue streams I can generate with it.
Shopify is a streamlined hub of all sales channels (except Etsy). It's wonderful to have everything in one place. Amazon has turned out to be an amazing sales channel. I only have 2 items listed from my over 200 items, as I wanted to be sure I mastered SEO and best practices of that site before I set up my entire shop there. Many of my current website sales are generated from Amazon and with only 2 items listed. I see a great deal to be gained by this channel.
Our customers love the new site. The separation of "Prints" and "Instant Downloads" is very clear for them. We've increased our average order value compared to our Etsy shop. So many more people are opting for prints instead of downloads.
Our mailing list is growing every day.
Building your business online is a huge job. Stop struggling with it yourself!
Having a team of experts with their thinking caps on for your business is a feeling like no other. We are professional, punctual, and our clients tell us that our work is transformative.