Blogging Tools To Make The Job So Much More Organized
June 29, 2016 / Updated: March 11, 2022
Last spring, I wrote that series of articles about blogging for your business. It was very well received, and I've been wondering how everyone has been doing with their blogs.
Of course, you're not required to blog! If you have been, or are planning to, I wanted to share some of the blogging tools I personally use each week to work on the Aeolidia blog. I love these things, and please note that I'm using affiliate links where available.
WordPress! I use WordPress to create my blog. If I had a shop, I would use Shopify and the blogging tool included there.
I host my WordPress site on WPEngine, because they make sure it doesn't get hacked and they upgrade the software for me. I do still need to make sure our plugins are each upgraded.
CoSchedule – a colleague of mine clued me into CoSchedule and it's one of those tools that just makes life so much easier. My favorite things about CoSchedule:
I have a list of tasks that I can apply to each post and check off so I don't miss anything.
I can share blogging duties with my team and get help on articles and file prep.
CoSchedule includes an easy way to schedule sharing each post I make on social media multiple times into the future, so the info gets out to people who can use it.
CoSchedule's Headline Analyzer allows me to make sure people will want to know more when they read my titles.
Hemingway. This is a neat tool that's helpful in clarifying my writing for the web. It helps make my writing clear and concise, and as someone who loves a long, meandering sentence, it's a big help in making sure what I write is readable. I clearly didn't run the previous sentence through Hemingway. 🙂
Evernote is where I store blog ideas and bits of text that I may turn into articles in the future.
What tools do you use for blogging? Leave a comment below to let us know, or join the conversation in the Shipshape Collective Facebook group!
260 Blog Post Ideas for E-Commerce Businesses
In this downloadable PDF, I've put together 260 blog post ideas (which you could also use for your newsletter or Instagram), introduce you to 9 ecommerce blogs that are absolutely killing it, and give you an action plan for generating more ideas of your own and getting started.
Get your 260 blog post ideas PDF here: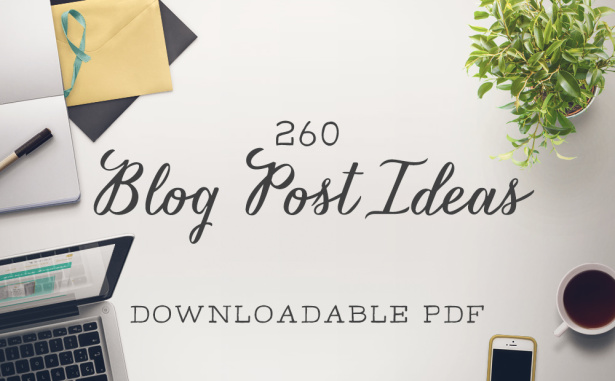 Newsletter Sign Up
We write a new email each week to help you grow your business.
Related Posts
Let's take your online shop to the next level
The Shopify websites we design have a reputation for substantial improvements to ecommerce conversion rates and online sales. Let's talk!