One thing we know about the crafting community: it's warm and welcoming! So selling crafts online should be, too. That's why we are such big fans of selling crafts on Shopify, and we recently implemented it to help transform gather here's online shop into a space that's as cozy and charming as their brick-and-mortar store.
The Cambridge, MA-based stitch lounge (not just a sewing studio, as they welcome all fiber crafters, knitters, and crocheters) opened in 2010 with two main components: a shop offering fabric, yarn, sewing machines, and notions, and studio space and classes to bring out the maker in everyone. After relocating to an exciting, more central location, owners Virginia and her partner Noah were struggling to integrate their in-store POS system with their online platform, and their class calendar—which fills up quickly and is constantly adding new events—was slow to load and missing essential features like a waitlist.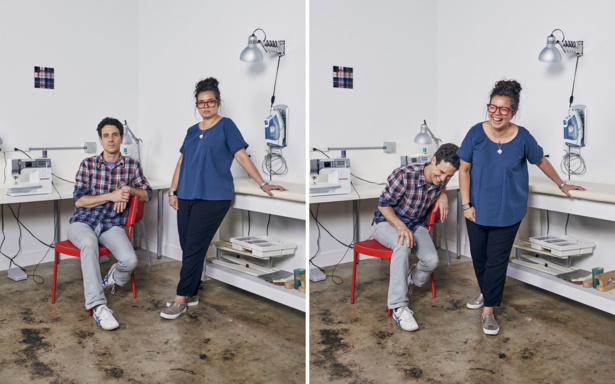 "Ninety-nine percent of people exclaim, 'the new store is AWESOME!' We want people to feel the same way about our web presence."
We set out to transform gather here's online space with a user-friendly redesign and website copy that brings the brand's friendly, encouraging vibe to life. Because gather here is a place for everyone, from beginners to experts, it was important that the copy motivate novices to push aside their doubts and feel welcome, while letting super-crafters know that they'll be amongst their people. We did this by infusing all the copy with Virginia's enthusiasm and belief that crafting is for everyone.
When viewing the very first design concept, Virgina told us,
"Is it odd that we both think this is great just the way it is? Like, you captured the overall mood and tone. THIS is how we want people to think of us."
For the redesign, Brooke created a modern and uncluttered site that incorporates clean typography, a few simple illustrative elements that visually connect to handcrafts, and a prominently displayed video on a loop to capture the energy of the unique space. Using Shopify plugins, we were able to streamline the class sign-up process for both customers and for Virginia on the backend.
"The site is easy to navigate so that your customers can do what they came to do — shop your beautiful products and register for your amazing classes. (And, of course, be inspired to return to the site soon to buy/register again… and again… and again!)" Brooke explained.
To help visitors find the boutique's fabulous new location, she created a custom illustrated map and placed it prominently on the home page, along with four calls to action. These are meant to invite visitors to the most important areas of the site: the shop, the class calendar, the gather here story, and FAQs.
The new design had us wishing we could pay gather here a visit! And Virginia was so happy to finally have an online presence that reflects their fun, authentic selves. After the project, Virginia shared,
"What we absolutely loved about our experience would have to be the actual process Aeolidia uses to "get to know you." Through a series of questions that really asked us to delve deep into who we are as a company and what we want from our business, Aeolidia developed a Shopify site that reflected the essence of gather here. We found the soul-searching to be just what we needed to discover who we really are."
View more projects in our portfolio »
Do you have a crafty business that could use some love?
Are you selling crafts online and thinking about switching to Shopify? We're at the ready to build an exciting new space for you. Contact us about getting started.
Want to get to know us a bit better before diving in? Our newsletter is the perfect place. I'll explain it all bit by bit over a few weeks, right to your email.
Newsletter Sign Up
We write a new email each week to help you grow your business.
Related Posts
Let's take your online shop to the next level
The Shopify websites we design have a reputation for substantial improvements to ecommerce conversion rates and online sales. Let's talk!