How to Use Graphic Design For Your Brand
January 7, 2016 / Updated: January 17, 2023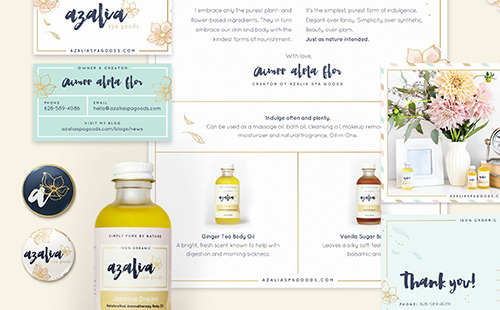 You have probably seen some gorgeous brand guides on Pinterest (and here on the Aeolidia site!), with color schemes, graphics, patterns, and fonts. Maybe you have one of your own, or you're creating one for your business right now. These visual cues are meant to be helpful in keeping your brand cohesive, making it memorable, and making it easy for you or your designer to create new marketing collateral for your business. But how to use graphic design for your brand in the real world? Where to get started?
Using graphic design for your brand
Here are three real-life examples that show how you can use your logo and branding details across everything you do: website, print materials, and product packaging.
1. Incorporate your branding into your product packaging
Aeolidia client: Azalia Spa Goods
Azalia's brand details:
Packaging we designed for Azalia Spa Goods:
Logo: Let the full version of your logo shine on your product
Colors: Don't feel that you need to use all the colors everywhere – sticking to a limited version of your palette can have more impact
Pattern: Pulling a subtle pattern onto your package and adding in a graphic can make all the difference
Fonts and text treatment: Keep fonts, borders, and effects the same from piece to piece across your branding
2. Incorporate your branding into your website
Here is an example of how your branding could be incorporated into your website. Keep in mind that you don't have to fit all of your branding elements on your home page. Be creative and scatter them throughout your interior pages, or save some graphics or patterns for other marketing materials.
Aeolidia client: Tickled Teal
Tickled Teal's brand details:
Website we designed for Tickled Teal:
Primary logo: include your logo at the top of your website for excellent brand recognition
Patterns: patterns can be used for more than just backgrounds
Subtle footer pattern: add your branding patterns throughout your website for an extra touch of visual interest
Color: use your color palette for brand consistency
Graphic elements: graphic elements and brand marks can be used to keep your branding strong without the repetitive use of your main logo
3. Incorporate your branding in your marketing materials
Your print and promotional materials are a fun place to get creative with your brand graphics! There are lots of places where you can fit in illustrations, patterns, colors, and other graphic details.
Aeolidia client: Mockingbird
Mockingbird's brand details:
Print materials we designed for Mockingbird:
Stickers: simple stickers with your logo
Pattern use: use your patterns in marketing materials, back sides of business cards, or stickers
Product tag with icon: add simple icons or patterns to the back sides of your product tags
Icon use: add your included icons or graphic elements to cards, stickers, or any marketing materials
Business card with alternate logo: your alternate logo can be used wherever space is limited or when you want to keep things simple
Voila! Now you're matchy-matchy all over the web and in person. People will remember the effect your brand had on them, and everything's looking so pulled together!
Get help with graphic design for your brand
If you'd like us to work this magic for your business, please download our rate sheet!
Newsletter Sign Up
We write a new email each week to help you grow your business.
Related Posts
Let's take your online shop to the next level
The Shopify websites we design have a reputation for substantial improvements to ecommerce conversion rates and online sales. Let's talk!