124%
desktop conversion rate increase
430%
mobile conversion rate increase
Kate Ryan Skincare's loyal customers are a diverse audience. They range from a 30-something just starting out in the anti-aging world, to more mature clients looking to care for their aging skin. When working on their branding exploration, Jess sought to create a bridge between both demographics. Minimal designs, floral elements, and a color palette of charcoal black, white, pink, and light grey/silver strike a perfect balance that is feminine and sophisticated with just a dash of whimsy. The new visual identity feels like a natural evolution for the Kate Ryan brand. It's a fresh start that won't ostracize current long-time customers.
Inspired by the clean yet warm aesthetic of the new packaging, we created a website that carries this fresh new messaging into an interactive space. The brand's colors were balanced with white space to create a simple, modern shopping experience that makes it easy for customers to browse the line's wide range of products. The end result feels contemporary and visually rich, further emphasizing the sophistication of the brand.
Overall, the new site is awesome. User friendly for customers and seller-friendly – gotta love it! The new branding is beautiful and feels very us. Our customers are loving it! We highly recommend Aeolidia if you are looking to take your e-commerce store to the next level!
Bev & Erica
Kate Ryan Skincare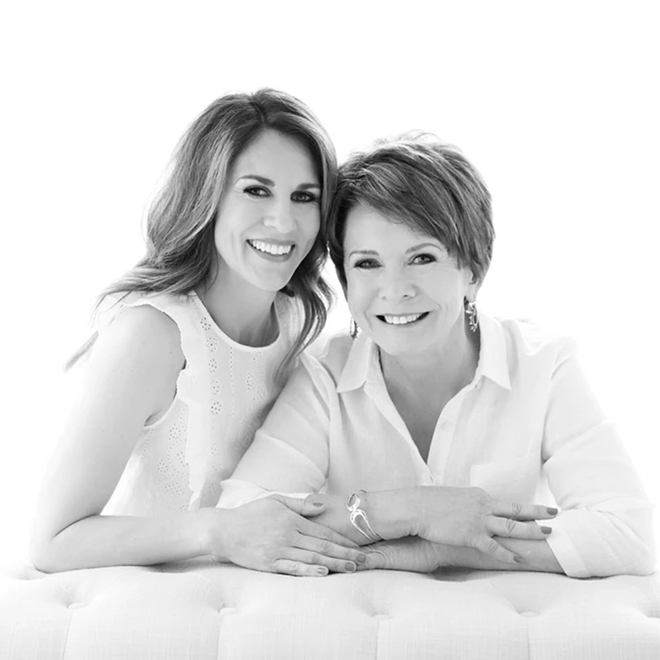 Headshot of Kate Ryan Skincare owners Erica and Bev.
Moisturizer product shot.