Erica's Problem
Kate Ryan Skincare is a proprietary line of skincare products made with honest, safe, and real ingredients in small batches. Founded in 2012, the company saw an opportunity to fill the gap between natural/organic products and those made with science-backed, anti-aging actives. The brand takes great pride in their formulas, and is firm in their founding principles of transparency and quality ingredients, but their unique story and voice weren't coming through on their website. From a logistics and functionality standpoint, client Erica Finnan noted that they needed to be able to add content to their site quickly in order to take advantage of flash sales and social media opportunities.
We need to identify our strengths and how we stand out in the very crowded, heavily marketed skincare space to find the consumers looking for products like ours. We feel like we've reached a plateau based on our current methodology.
It was clear that Kate Ryan Skincare didn't need a full makeover; they just needed a breath of fresh air. We came up with a plan that kept their original logo but incorporated small yet effective tweaks to their visual identity and packaging design. This way, we built on their brand recognition while refining the overall messaging.
Our Solutions
In order to re-work the brand, designer Jess Levitz envisioned a clean and purposeful identity that feels sophisticated yet warm and approachable. Painted floral patterns paired with timeless, simple fonts and warm, vibrant accent colors complement the brand's established geometric mark and handwritten logo. Web designer Do-Hee Kim took a fresh and immersive approach to translating the new branding elements to the KRS's online shop. White space, warm tones, a few spot illustrations, and subtle load-animations ensure the products are showcased front and center, all while creating a modern, welcoming space.
What Our Client Had to Say
The ease of working with a team that is all closely connected. The process of building a new website was organized and Aeolidia made it as easy as possible to take on this big task while still running our business.
Identity
Branding Solutions
Kate Ryan Skincare's loyal customers are a diverse audience, ranging in key demographics from a 30-something just starting out in the anti-aging world, to more mature clients looking to care for their aging skin. When working on their branding exploration, Jess sought to create a bridge between both demographics. Minimal designs, floral elements, and a color palette of charcoal black, white, pink, and light grey/silver strike a balance that is feminine and sophisticated with just a dash of whimsy. The new visual identity feels like a natural evolution for the Kate Ryan brand; it's a fresh start that won't ostracize current long-time customers.
Brand Guide
Website
Home Page
Website Solutions
Inspired by the clean yet warm aesthetic of the new packaging designed by Jess, Do-Hee created a website that carries this fresh new messaging into an interactive space. The brand's colors were balanced with white space to create a simple, modern shopping experience that makes it easy for customers to browse the line's wide range of products. The end result feels contemporary and visually-rich, further emphasizing the sophistication of the brand.
While the new design accommodates all of KRS's current needs, Do-Hee was also aware of their goals to continue growing in leaps and bounds in the coming years. The design and functionality of the site is one that's flexible enough for them to update themselves, but also scalable for the near future.
Item Page
Collection Page
Regimen Guide
Photography
Skincare Set
Moisturizer
Styled Moisturizers
Serum Product Shot
Moisturizer Product Shot
Print
Thank You Note
Product Card
Package Design
Mailer Box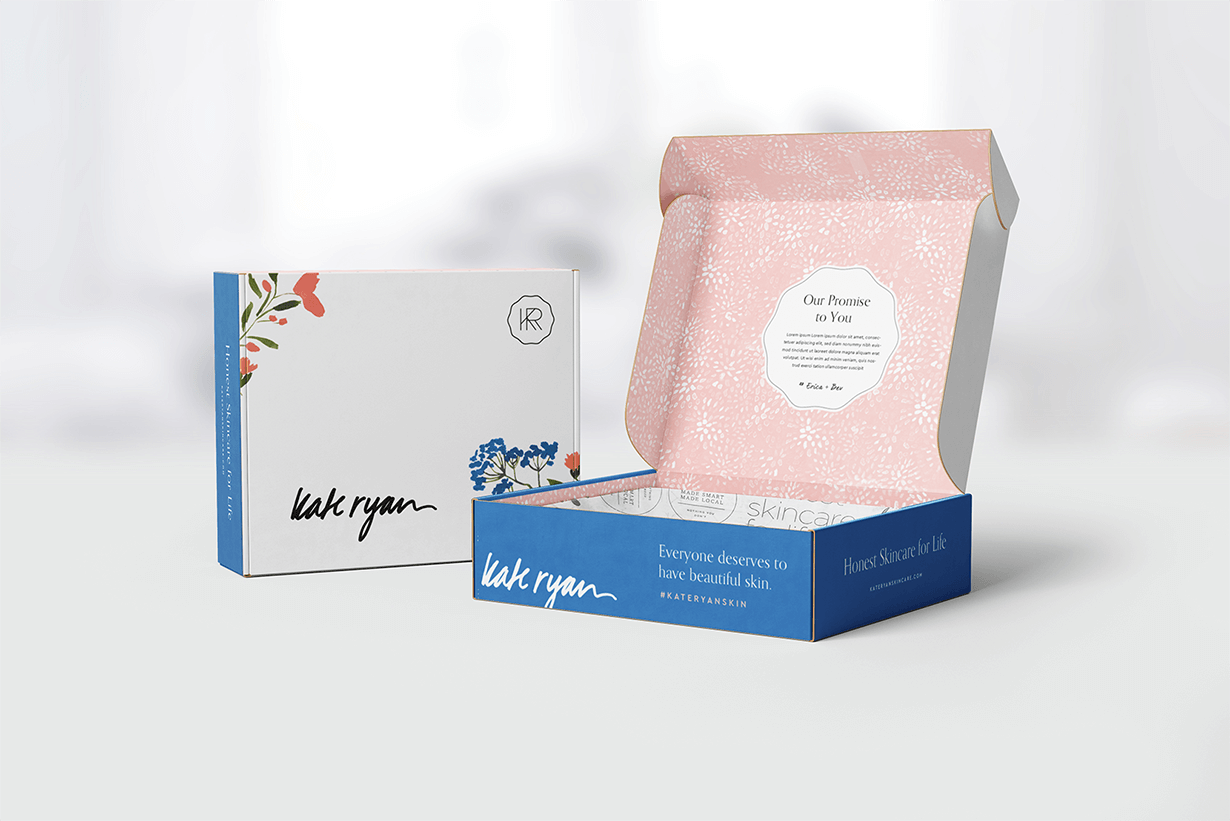 Facial Mist Label
Box Design
Brand Stickers
Copywriting
Home Page Copy
(announcement bar copy)
Free US shipping on all orders $100 and up.
(main header + subhead copy)
LOVE AT FIRST SIGH.
You: In search of a healthy relationship that gives you a fresh, feel-good glow.
Kate Ryan: Here for everything you need.
Shop Skincare >
YOU DESERVE HONEST SKINCARE FOR LIFE
Ingredients with purpose.
We use only the finest, most powerful actives and no fillers, ever. Decluttering is not just for closets.
Potent, safe, and proven.
Our formulas are powered by nature and backed by science so you know they'll do what they promise.
Goodness, through and through.
Always free of dyes, artificial fragrances, parabens, and harmful chemicals. And 100% cruelty-free.
(collections by skin concerns copy)
IT'S LIKE WE KNOW YOU.
Products for your every want and need.
Neck Firming Collection
for a swoon-worthy décolletage
Combination Skin Cleansers
for reading skin's mixed signals
Pore Refining Formulas
for smoothing things over beautifully
(customer testimonials)
Word of our results gets around...
(bestseller copy)
MUST-HAVE PRODUCTS, CHOSEN BY YOU.
shop bestsellers >
DMAE Serum
Anti-aging for face and neck
Retinol Evening Renewal Serum
Brightens and firms all over
Complete Daily Moisture
Essential hydration, day and night
Clearly Radiant Enzyme Mask
Gently nourishes dry, damaged skin
(instagram intro)
We see you. We celebrate you.
Join the conversation @KRSKINCARE #MYKATERYAN
(newsletter sign-up)
Loving yourself is a way of life. Get 15% off your first order when you sign up for our exclusive skincare tips and inspiration.
submit email >
Thank You Note Copy
INSIDE:
Big, beautiful thanks
for choosing Kate Ryan Skincare.
This box is filled with products made with only the finest proven ingredients—and nothing extra. Shouldn't every day be this blissfully simple?
Take good care and enjoy!
Always,
Bev & Erica
BACK:
Share Your Glow
We see you, we celebrate you.
Show us how you're using Kate Ryan Skincare in your life!
@KRSKINCARE #MYKATERYAN
Mailer Copy
READY TO GET GLOWING?
Everything in this box was made to be good to you:
Ingredients your skin was born to love, and the proven formulas to keep it feeling wonderful, again and again.
So go on and indulge. Your new products are more than a skincare routine—they're a self-care way of life. Thanks for letting us be a part of your fresh start.
Building your business online is a huge job. Stop struggling with it yourself!
Having a team of experts with their thinking caps on for your business is a feeling like no other. We are professional, punctual, and our clients tell us that our work is transformative.