A mailing list is so vital for staying in touch with people who are interested in what you do (we've spoken about this before), especially with last year's demise of Google Reader, and with Facebook recently dropping small business pages off of news feeds unless they pay for advertising. Being able to get in touch directly with your subscribers, without having to rely on the whims of a third party is so valuable.
If you're having a hard time keeping up with your blog, social media, and a newsletter, why not kill two birds with one stone? You can easily send your blog posts out automatically by email to subscribers.
You have a variety of options and ways to do this, including Feedburner, and WordPress' Jetpack plugin, but I have another method I prefer.
Send blog posts via email using "RSS to Email"
If you'd like to be able to send out newsletters as well as content, I recommend using the MailChimp RSS-to-email option. With this method, you can set up your blog posts to mail out on whatever schedule you set, with an email layout that matches your branding, and with whatever additional message you'd like to include.
This is a bit more work than setting up Jetpack, but the advantages are:
you have a lot of control over when and how often it sends
you can bundle multiple messages into a digest email
you can design it to look how you'd like
you can add your own text to the header and footer of the email
you can then email your subscribers about other stuff!
As the Mail Chimps themselves point out, "here's the part that'll make you really poop your pants" – RSS feeds are not just for blogs. If you have an ecommerce site, you could be sending automated emails with your new products in them. Both Shopify and Etsy produce a feed of your products. Same for an events calendar, and many other instances where your content is in a database.
So, for instance, you could set up an automatic email that sends your customers your newest products. Or you could send out info about upcoming in-person events as they happen, rather than sitting down to write an email each time. Or you could let people know that your latest blog post is up, or send it directly to them in full.
How to do it
I'm not going to walk you through how to send blog posts via email, because MailChimp do such a good job with that themselves:
How to set up an RSS to email campaign.
That may look complicated at first glance, but if you have a tab open with your campaign-in-progress and another with this tutorial, and go through it step by step, you'll be rewarded with a mailing list that takes care of itself (as long as you keep producing RSS content!).
Speaking of newsletters…
Hey! This is the kind of usable info I share with my email newsletter subscribers. If you'd like more hints and tips like this, please subscribe below, and you'll be treated to some business tips you may not have thought of, and advice that is always actionable regardless of your know-how.
Do you have any questions for me about RSS and/or newsletters? I'm all ears!
260 Blog Post Ideas for E-Commerce Businesses
In this downloadable PDF, I've put together 260 blog post ideas (which you could also use for your newsletter or Instagram), introduce you to 9 ecommerce blogs that are absolutely killing it, and give you an action plan for generating more ideas of your own and getting started.
Get your 260 blog post ideas PDF here: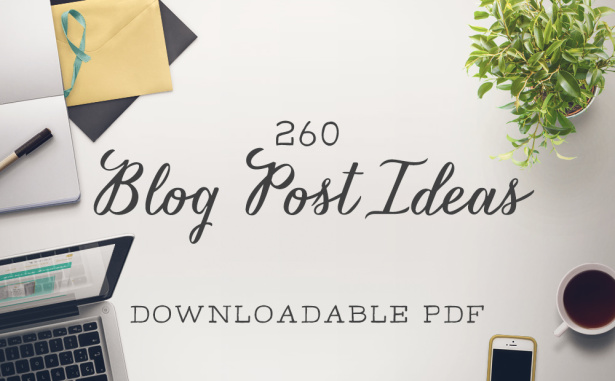 Newsletter Sign Up
We write a new email each week to help you grow your business.
Related Posts
Newsletter Sign Up
We write a new email each week to help you grow your business.
Let's take your online shop to the next level
The Shopify websites we design have a reputation for substantial improvements to ecommerce conversion rates and online sales. Let's talk!