One reason we love working with creative entrepreneurs is that they never cease to amaze us, both in their product offerings and their approach. When Joanna Miller came to us for a logo refresh and a complete site revamp for her company, Bespoke Verse, we knew were in for a fun project. Bespoke Verse is a UK-based poetry studio that crafts custom rhymes for life's special occasions and sells poetry-themed gifts (like prints, homewares, and stationery), all created with original works written in-house.
As the first of this type of business in the UK, Bespoke Verse had already made a huge name for itself in just 3 short years, but Joanna was ready to take it to the next level:
"My goal is CREDIBILITY – to have a design-conscious and cool site (with blog and easy to navigate shop) that boosts our brand and establishes us and challenges our competitors. It would encourage more purchases directly from us rather than 90% going through our main online marketplace notonthehighstreet.com. It would encourage stockists who research us to take us seriously and be more likely to make an order.

I'd like the site, branding, photography, packaging etc., to be more in tune. I am happy to invest in this. To see this happen is my main goal – I know increased sales will follow."
Take Your Brand to the Next Level By Starting from Scratch
We started at first with the Bespoke Verse logo, which had been from the company from the beginning. Joanna remarked that she liked it, but felt it could use improvement. In this case, we suggested a logo refresh—not starting from scratch, but instead taking the strengths of the current logo and expanding upon the design (using color and font selections, new patterns, and other graphics) to build a more cohesive identity.
Though the Bespoke Verse logo had a great nib design that Sarah reinterpreted in various ways, eventually it became clear that what Joanna truly craved was a complete redesign. She wanted something new and different, something she perhaps hadn't thought of yet.
Embrace the Excitement of the Unexpected
Sarah was thrilled to start from scratch and let her creativity loose! Before getting to work, she asked Joanna if any symbols or icons come to mind when thinking of her business. Joanna listed things like nibs, pens, envelopes, and handwriting, all of which Sarah explored in her initial round of design concepts. But she also had a hunch about a completely different idea…
"This is a quick, brown fox jumping over your logo design.
When I started thinking about writing and type and everything in between, that pangram kept coming back to me so I thought, why fight it! haha

I just thought the jumping fox was such a cool icon and from what I could tell from a google around, nobody else is doing it!"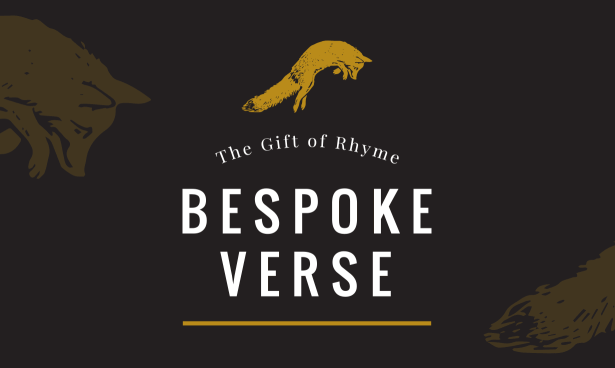 Sarah had a feeling Joanna would love it, and she was right:
"I've been daydreaming about the fox design so I know this is the one.

There are lots of very convincing reasons – the alphabet reference, it's unique & quirky, it has a cool creative vibe but is also classy & clean, foxes are said to be clever and witty and that is what we are trying to convey, we even have a fox in our garden who sneaks around outside the studio sometimes, and… we have a lazy dog in residence already (see instagram feed).

… this just feels Bespoke Verse!"
Before finalizing the logo, Sarah made some tiny adjustments to the fox, like redrawing her feet so she looked more "pounce-y" and making her eyes and ear stand out a bit more. She focused on clean, fun fonts and timeless colors that would accentuate the fox even when the colors were inverted. This worked out beautifully for Bespoke Verse's additional brand elements, like the stamps, icons, stickers, business cards, and more that were all part of the business's new Big Brand Guide:
Credibility For Your Business
We just love watching that little fox go. Ready to leap into an exciting design for your business? Contact us about a new logo design!
See this project (including the new website design!) in our portfolio.
Newsletter Sign Up
We write a new email each week to help you grow your business.
Related Posts
Let's take your online shop to the next level
The Shopify websites we design have a reputation for substantial improvements to ecommerce conversion rates and online sales. Let's talk!