We talked about blogging all spring this year, and it was a popular topic. On my post, 260 Blog Post Ideas for Creative Businesses, I offered to work personally with one winner on creating an editorial calendar. Our winner was Lauren Quinn Ward of Felicette, and it was easy and fun to put together her calendar for her. I admire her business so much, because Lauren is bursting with enthusiasm, good ideas, and the motivation to roll up her sleeves and get to work.
We talked through how often she wanted to post, and what strengths she was bringing to the blog project. Lauren cited photography as her strong point, and downplayed her writing skill, which I disagreed with! She has a clear, good-natured tone, and an engaging style with a touch of humor. These are great assets, and have made blogging work well for Lauren.
We talked about her objectives, unique selling proposition, and target customers, and we got to work. We decided on one post a week, and I gave her a list of rough post types:
Inspiration

DIY

/crafts
How-tos
Customer-submitted
Ideas & examples

Behind the scenes
Product announcements and info
We decided on three inspiration posts a month – two easy, and one more complicated. For the fourth post, Lauren would add in a "behind the scenes" or a product-based/news type post each month. The inspiration posts are most likely to get customers coming back to read more and buy new stamps, so they are the focus.
Once that was the plan, we went on to make a list of post ideas, then sprinkle them onto a calendar, keeping holidays and other important dates in mind.
We also talked about ways to collaborate with and be featured by other businesses and have products featured on other blogs. Lauren used our Pitch Kit (no longer available) to plan for and approach bloggers about her products, and she told me it really helped her.
I will share my focusing questions and strategies for you to use in a followup post, but for now, let's hear from Lauren herself how this all is working out! She has been blogging for her biz since June 2015.
Interview with Lauren Quinn Ward of Felicette
How did you decide you were going to blog for your business? Was it a hard decision?
I always knew I would have a blog component on my website when I rebranded. It's too important not to have, especially since I make rubber stamps. Having a blog that has a variety of DIY projects answers many customers' question: what can I do with rubber stamps. The hard part was deciding what to blog about. But your very comprehensive post about 260 different blog ideas and major assistance with the calendar has given me focus and direction.
We worked together on an editorial calendar for you. What were you surprised by during that process?
I was surprised at how easy the calendar came together, and has been to continue on with. There was the initial brainstorming with you of post ideas and that there should be about four different categories the posts would fall into and then actual post ideas for each category. Then the calendar got filled out, interspersing the different categories for variation and appropriate posts for the season. When I think about it overall it still sounds really daunting, "I have to make a blog calendar," but with anything breaking it down into smaller more manageable components made it significantly easier.
How closely have you stuck to the calendar? When you deviate, do you feel that having the structure in place helps anyway?
I have stuck fairly close to the calendar. There have been a couple weeks where I was really busy (or procrastinated too long) and needed to create one of the quicker blog posts. I would swap the weeks and do the more involved post later. But I view the calendar fairly rigidly, that thought process helps to keep me on track. It's law; it's a part of my job. Blog posts are live on Tuesday (no matter what) and newsletters every other Wednesday.
How much work do you put into blogging, and what results have you seen from your efforts?
I put a good bit of work into each one of my posts. I don't want them to look rushed or sloppy, they are a representation of me and my business; I also want them to be fun and useful. One of the DIY posts will take me several hours to create. I start on Friday and make my list of things I will need to get over the weekend such as paints, a table cloth, etc. Monday is when I actually start on the post, documenting the steps of a craft project with my camera, editing the photos, writing the instructions, and then putting it all together to go live on Tuesday.
My ultimate goal is to take some time and make several posts to have ready to go live, but I am not that good yet.
Mainly the results I see are in traffic the posts bring in from social media. The blog is my largest source of traffic. Occasionally I will get messages from customers about wanting to stamp on a handkerchief for their wedding or stamp their own fabric pattern. So to have a blog post that I can immediately send showing them how to do what they are asking is a great feeling for me and they are always excited to have instructions.
Tell us about a blogging "win" that you've had.
The best blogging win for me was when the Today Show pinned my stamped paper airplane tote bag tutorial. They accidentally pinned it to their "Bacon" board, but they have over 200,000 followers and I still got traffic from it. I just tell myself that it stands out as unique among the other pins.
How do you balance your blog with your social media posting and newsletter?
You think Facebook, Instagram, Twitter, Pinterest, a newsletter, and now a blog too? But blogging actually helps with my social media and newsletter. It provides me with content for my social media posts and every other Wednesday my newsletter, Space Cat Patrol, has a "Recently on the Blog" section with the last two blog posts.
Because the majority of my posts are diy/crafts with my rubber stamps most of my social media traffic comes from Pinterest. If I didn't have the blog, I wouldn't have many interesting things to post about on social media. So it actually helps to keep things in balance. Some of the blog posts are about signing up for my newsletter or following along on Instagram (@felicetteshop) and using my hashtag to share your stamp project, so they all feed off of each other. Without one the others would be lacking.
What questions do you still have about blogging for your business?
Some questions I have right now about blogging are: Is there a way I can know if visitors are actually getting something out of the blog posts other than just seeing their visit on analytics? I guess it might be a survey, but I'm not sure how I would get to ask the people who are first time visitors and not newsletter subscribers what they think. What else should I be doing with the blog posts other than just posting them on social media and the newsletter?
What advice would you give someone who is on the fence about whether they should blog to support their ecommerce shop or not?
If you are on the fence about starting a blog for your e-commerce site, I say do it. It is a lot of work and takes time, but by finding a point of view and a voice for your blog that is inline with your business will make it all worthwhile. Make your calendar of post topics and stick to it! If once a week is too much to handle, schedule your posts every other week. Just be consistent with when you make your posts.
The blog has been a very useful tool for me, it adds a personal, human voice and a bit of fun to my website that wouldn't be there otherwise. My site isn't just about photos of stamps and descriptions, but a useful tool for customers and a source for project ideas. It was very intimidating when I first started, but I couldn't imagine my business without a blog now.
Read the Felicette blog here
Go take a look at the Felicette blog and leave Lauren a friendly comment! See how she has put our plans into practice.
What about your blog?
Do you have a blog for your business? How is it working out for you, and what questions do you have about blogging effectively?
260 Blog Post Ideas for E-Commerce Businesses
In this downloadable PDF, I've put together 260 blog post ideas (which you could also use for your newsletter or Instagram), introduce you to 9 ecommerce blogs that are absolutely killing it, and give you an action plan for generating more ideas of your own and getting started.
Get your 260 blog post ideas PDF here: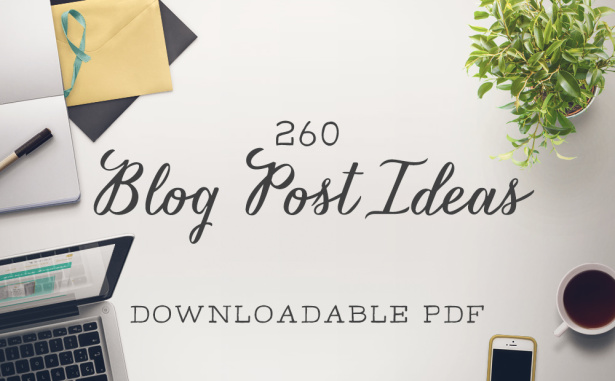 Newsletter Sign Up
We write a new email each week to help you grow your business.
Related Posts
Newsletter Sign Up
We write a new email each week to help you grow your business.
Let's take your online shop to the next level
The Shopify websites we design have a reputation for substantial improvements to ecommerce conversion rates and online sales. Let's talk!